Engine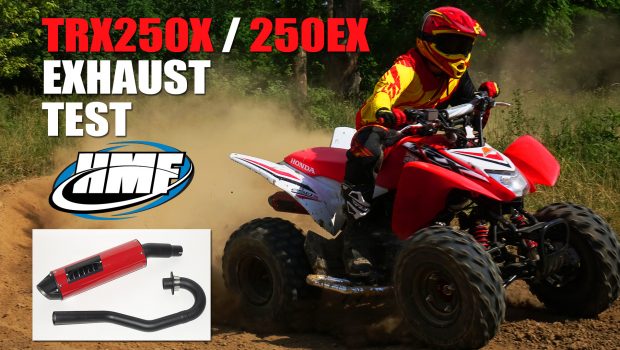 Published on June 22nd, 2018 | by Joe
HMF TRX250X / EX Performance Series Exhaust and Jet Kit Test
TRX250X and EX power upgrades from HMF
We reviewed Honda TRX250X a couple of years back and really appreciated the sporty little machine for its affordability, reliability, and fun it provides for riders of all skill levels. Out of the box, the Honda feels peppy. Its 229cc, air-cooled, four-stroke pulls well off the low-end and up into the midrange before singing off pretty quickly on top.
As the most common performance upgrade, we couldn't help but wonder what a good performance exhaust could do for our Honda, and with the original TRX250EX dating back to the turn of the century, there are undoubtedly thousands of other 250 owners out there wondering the same thing.
Exhaust Upgrade
Looking to make the most of the little pushrod engine, we installed a Performance Series Exhaust from HMF. Constructed in the USA, HMF offers the Performance Series in a full system only for the 250X. It's constructed of corrosion resistant stainless steel with a 4" 6063-T6 aluminum silencer shell. The silencer features a 2 1/8" core with a special hole pattern claimed to help increase power evenly throughout the RPM range. The exhaust comes with a USFS approved spark arrestor along with HMF's quiet core insert. The Performance Series exhaust is said to increase sound output by 4-6db with the Quiet Core knocking sound output back down by 2-4db.
Looks are a matter of opinion and the Performance Series exhaust offers lots of options when it comes to appearance. The silencer can be ordered in brushed aluminum or different powder coat color options. There are two different end-cap styles also available in different colors. HMF's Blackout option coats the entire exhaust in an extreme temperature resistant, matte black ceramic finish. We ordered our exhaust with their Euro style endcap and Blackout Ceramic coating complemented with a red silencer shell. You can add a custom silencer color to a HMF's Blackout option for no additional charge. We were thrilled with our exhaust's appearance and you can order yours to match your taste or machine.
The exhaust bolted up perfectly with no drama, and it knocks a few pounds off the machine. HMF recommends a 100 main jet to complement their exhaust. Their Jet Kit comes with a 100, 105, and 110 main jet. Wanting to ditch the airbox lid for improved intake flow, we installed the largest 110 to start, which proved to be a good choice.
Test
HMF claims the exhaust provides somewhat modest gains between 10-15%. However, the dyno doesn't always tell you everything about how the power is delivered.  Riding the X, we felt the difference in performance was more notable than their claims led us to expect.  There's a detectable increase in throttle response. When you crack the gas, the engine feels a little more responsive and willing to build RPMs. We noticed an occasional pop at low RPMs when rolling off the gas, a sign that the pilot jet, which controls fuel delivery at lower RPMs, could stand to be a little larger. The rest of the RPM range ran flawlessly with the airbox lid off. If you ride in colder weather, going up a size or two on your pilot jet is highly recommended. For warmer weather, HMF's jet kit is sufficient.
Low-end power feels as strong as stock with plenty of grunt to get you rolling or to crawl up some pretty steep inclines. Midrange power seemed stronger than stock powering out of corners, but the best gains came in opening up the top end. Racing down straight sections of trail, we found ourselves often bouncing off the rev limiter, upshifting a while after the stock X would have fallen off. There's added performance available across a much wider RPM range.
The deep throaty sound also adds to the fun sport ATV experience without being annoyingly loud on longer rides. While it won't turn your 250 into a 400, the HMF Performance Series Exhaust definitely helps up the fun factor on the 250X and EX.
Conclusion
After a half-dozen rides, the entire exhaust, including the head pipe, looks virtually good as new.  With a brushed finish, full system currently retailing for $349.95, HMF's Performance Series exhaust is nearly identically priced to FMF's PowerCore 4 Slip-on and is $100 – $200 less expensive than other full system options on the market. Blacked out with its red silencer shell for $449.95, our exhaust featured a custom look to match our machine and still cost less than some off-the-shelf exhausts.
When you can actually feel the performance gains from an aftermarket exhaust, you feel like you got your money's worth. When an exhaust leaves enough money in your pocket to go riding, that's even better. Obviously, we are very happy with the HMF Performance Series exhaust for the Honda TRX250X and 250EX
Manufacturer: HMF
Item: Performance Series Exhaust for the Honda TRX250X and TRX250EX
Price: $349.95 – $449.95
Contact: https://www.hmfracing.com/
HMF TRX250X / EX Performance Series Exhaust Test Rating
Summary: When you can actually feel the performance gains from an aftermarket exhaust, you feel like you got your money's worth. When an exhaust leaves enough money in your pocket to go riding, that's even better. Obviously, we are very happy with the HMF Performance Series exhaust for the Honda TRX250X and 250EX