Racing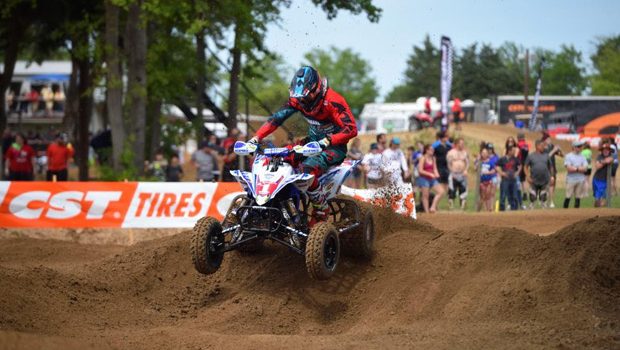 Motocross Nationals Round 2 2017 Race Report
Chad Wienen Extends Points Lead with Underground National Win
Brown and Hetrick Round Out the Top Three
KEMP, Texas (April 1, 2017) – The 2017 Wiseco ATV Motocross National Championship (ATVMX) presented by CST Tires, an AMA National Championship, continued today, April 1, at Underground MX Park (UGMX) in Kemp, Texas. The action on the track was nothing short of exciting with ideal racing conditions, creating an all-around exciting race day. The hot and humid Lonestar State weather put the AMA ATV Pro class to the test when it came to their riding skills, but at the end of the two grueling motos it was Wienen Motorsports/SSi Decals/Walsh Racecraft/Yamaha/Maxxis/7240's Chad Wienen who took home the esteemed overall win.
After two timed qualifying sessions, it was Maxxis/Elka/Liquid Wrench/Honda's Joel Hetrick who claimed the ATVriders.com Fastest Qualifier Award. Hetrick used this to his advantage where he ultimately earned the SSi Decals Holeshot Award in Moto 1.
Hetrick's luck quickly came to an end when he came face-to-face with a berm and stalled the bike. This incident allowed the five-time champion, Chad Wienen, to take over the lead. With a clear track, Wienen continue to push and stretch out a lead.
While Wienen was running his own race, hometown hero and Root River Racing/CST Tires's Thomas Brown and JB Racing/Root River Racing's Jeffrey Rastrelli found themselves in a heated battle. With only two laps remaining, Brown would carry the momentum to make the pass for second, and Rastrelli rounded out the Moto 1 podium.
Meanwhile, Hetrick put on a charge and managed to pick the talented pro field of racers off one-by-one as he worked his way through the pack. Hetrick would have to settle for fifth when the checkered flag waved, just a bike-length behind GennUSA's Nick Gennusa who placed fourth.
When it was time for Moto 2, Hetrick rocketed out of the gate looking for revenge. Wienen wasn't ready to let the top spot go where he moved into the lead on the first lap. The frontrunners continued making pass after pass and exchanging the lead multiple times throughout the 20-minute moto, creating what could go down in the record books as one of the best ATVMX races.
With much of the attention on Wienen and Hetrick, another battle was brewing for the final podium position. Brown and Rastrelli looked to be repeating the first moto where Rastrelli sat in third, and Brown chased him down from fourth.
With only two laps remaining, Hetrick made the final pass for the lead and continued holding onto first and the pair came across the finish. Brown would end up making a last-minute pass as well, taking third in the second moto.
Wienen's consistency and 1-2 moto scores earned him first overall, while Brown used a second and third place to finish as the runner-up. Hetrick rounded out the overall podium with a 5-1 moto tally. Rastrelli placed just off the overall podium in fourth, followed by Gennusa in fifth.
Savage Motorsports/Maxxis/Walsh Racecraft/Elka Suspension/BCS Performance's Ronnie Higgerson finished an impressive sixth overall with 7-6 moto score, with Root River Racing-backed Josh Upperman following in seventh and Walsh Racecraft/Honda's Parker Wewerka in eighth. AMPED Vossman Motorsports' Sam Rowe and Root River Racing-backed Dylan Tremellen rounded out the top ten.
The ATVMX circuit travels to Tallasse, Alabama in two weeks, April 15 and 16, for Round 3. The second annual Spring National will be held at Monster Mountain MX Park.
For more information on the 2017 Wiseco ATV Motocross National Championship, visit the official series website at www.atvmotocross.com. Join the conversation on the series Facebook page, follow on Twitter and Instagram, and be sure to always hashtag #ATVMX.
Underground MX Park
Kemp, Texas
Round 2 of 11
Saturday, April 1
2017 AMA Pro Class Event Results:
Chad Wienen (YAM) 1-2
Thomas Brown (YAM) 2-3
Joel Hetrick (HON) 5-1
Jeffrey Rastrelli (HON) 3-4
Nick Gennusa (HON) 4-5
Ronnie Higgerson (HON) 7-6
Josh Upperman (HON) 6-7
Parker Wewerka (HON) 8-8
Sam Rowe (HON) 9-9
Dylan Tremellen (HON) 10-12
Overall National Championship Standings:
Chad Wienen (72)
Joel Hetrick (63)
Thomas Brown (62)
Nick Gennusa (52)
Josh Upperman (45)
Jeffrey Rastrelli (44)
Ronnie Higgerson (43)
Parker Wewerka (41)
Sam Rowe (35)
Dylan Tremellen (29)
SSi Decals Holeshot Award Standings:
Joel Hetrick (3)
Chad Wienen (1)
ATVriders.com Top Qualifier Award Standings:
Chad Wienen (1)
Joel Hetrick (1)
About the Wiseco ATV Motocross National Championship
The Wiseco ATV Motocross National Championship presented by CST Tires, an AMA National Championship, is the nation's premier amateur and professional ATV motocross series, hosted at top motocross facilities nationwide. The 11-round series features the Nation's best racers, teams and sponsors, and is America's largest and longest-running ATV national motocross program. Since 1985, the series continues to expand and produce top talent from the amateur ranks, while premiering the professional class. For more information, please visit www.atvmotocross.com.
About the American Motorcyclist Association
Founded in 1924, the AMA is a not-for-profit member-based association whose mission is to promote the motorcycle lifestyle and protect the future of motorcycling. As the world's largest motorcycling rights and event sanctioning organization, the AMA advocates for riders' interests at all levels of government and sanctions thousands of competition and recreational events every year. The AMA also provides money-saving discounts on products and services for its members. Through the AMA Motorcycle Hall of Fame in Pickerington, Ohio, the AMA honors the heroes and heritage of motorcycling. For more information, visit www.americanmotorcyclist.com. Not a member? Join the AMA today: www.americanmotorcyclist.com/membership/join.