First Looks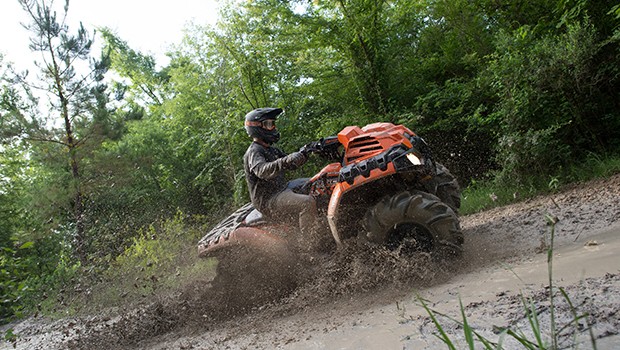 Polaris Introduces Three NEW ATV Models for 2016, First Look
Introducing the 2016 High Lifter Edition Sportsman 850 and XP 1000 mud machines, value packed Sportsman 450, and first ever fuel injected youth ATVs!

Story By, Polaris Industries

Polaris Sportsman® All-Terrain Vehicles (ATV) are known as the hardest working, smoothest riding ATVs on the market. For Model Year 2016, the Sportsman line adds three new models, including two for the mud lifestyle, in addition to several improvements and new color choices driven from customer input.
New Sportsman High LIfter Editions Mud Machines
New to the Big Bore line for 2016, Polaris has partnered with High Lifter to offer two ATVs made for the mud, the Sportsman XP 1000 Stealth Black High Lifter Edition and Sportsman 850 Orange High Lifter Edition. With 85 horsepower and 78 horsepower respectively, the vehicles are not only powerful but the most-affordable mud units in their classes.
Both units have been designed from the ground up to tackle the mud. To ensure the power plants breathe, the units feature shielded high engine air and clutch intake/outlets as well as high mounted vent lines, which are essential for reliable performance. For cooling, both vehicles have been equipped with a relocated, rack-mounted radiator with inverted dual fans, an industry-exclusive design that pulls clean air through the bottom of the radiator for improved cooling and reduced clogging. For more mud-specific torque, both units are equipped with a High and Low transmission with lower gearing. To put all the power and torque to the ground, the XP 1000 has the Polaris High Performance, Close Ratio Front Drive which provides quicker On-Demand four-wheel drive engagement to handle the toughest mud holes. Riders also will find that both units are designed to tackle the mud with the standard 29.5 in/74.9 cm High Lifter Outlaw II tires and a redesigned suspension featuring stiffer springs for higher ground clearance, exclusive front and rear high-arched, constant radius dual A-arms, and new articulating rear suspension designed to maximize traction in the deepest mud pit. POLARIS
Additions found specifically on the Sportsman XP 1000 High Lifter Edition include custom paint and graphics, aluminum wheels, Electronic Power Steering (EPS) and an industry first handlebar-mounted mud bar to maximize control in the mud. The vehicle also features custom color matched, high-mounted front and rear bumpers, factory-installed Polaris 3,500 lb./1587 kg winch with sealed handlebar switch and front tow hooks.
2016 Sportsman 450
For the entry-level consumer, Polaris also is introducing the new Sportsman 450 H.O., which delivers more power and performance for just $5,999 U.S. The Sportsman 450 H.O. features the smooth, reliable and proven Prostar engine delivering 31 horsepower and full-size capability at a 400cc class price. The vehicle shares many of the same features found on the Sportsman 570 including Polaris' On-Demand, True AWD, proven MacPherson Strut front suspension, IRS and Lock & Ride accessory integration.
2016 Upgrades
Improvements to the existing models for 2016 include 50 percent stronger front half shafts and improved driveline on all 850cc and 1000cc models. The Sportsman 850s also will have a new CST aggressive trail tire that works as great as it looks. Sportsman 450 H.O. and 570cc models will feature a new seat with more comfortable foam, durable seat base, new, morepowerful 660 watt stator to run more accessories, and added exhaust pipe shielding. The full line of Sportsman and Scrambler vehicles also receive a new, high capacity, high-flow air filter for improved air flow and dust filtration to the engine.
2016 Youth ATV Models
Polaris' Youth line up will include four 2016 ATV youth models, the Phoenix 200, Outlaw and Sportsman 110 EFI, and Outlaw 50 based upon the Specialty Vehicle Institute of America's (SVIA) ATV categories.
Accessories
Polaris will have a wide variety of accessories available for ATV, RANGER, RZR and ACE vehicles. More information about Polaris' whole line of Off-Road Vehicle offerings and accessories can be found online at www.Polaris.com.