Shootouts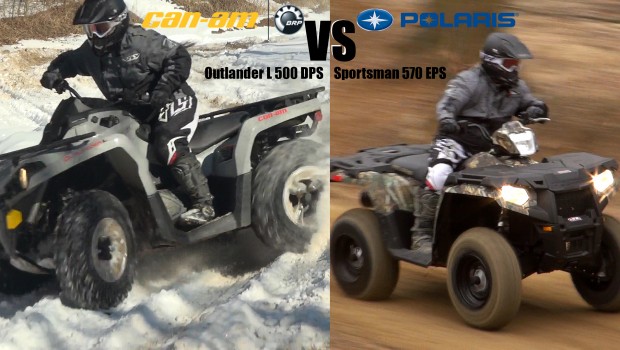 Published on April 10th, 2015 | by Joe
Polaris Sportsman 570 EPS vs. Can-Am Outlander L 500 DPS: with VIDEO
2015 King of Value 4×4 ATV Shootout, Presented by Maxima
Since its debut in 1996, Polaris has sold over 600,000 Sportsman 500s making it the best-selling ATV of all time. With enough power, stable predictable handling, and plush suspension, its performance proved to be timeless. A few years back, Polaris updated the looks of the 500, bringing its appearance into the 21st century while keeping its pricing remarkably low.
In 2014, Polaris replaced the old 500's engine with the Pro Star 570, originally designed to power the RZR 570 side-by-side, increasing its power by 22%. The new engine allowed the midsection to be slimmed 3.25 inches improving ergonomics. Add in a number of other smaller updates, Polaris was now selling the base model Sportsman 570 for the 500's 1996 introductory price of $6,499. Based on its excellent performance and unrivaled price point, we declared Sportsman 570, "A winner for riders and a model for the industry to follow."
A Can-Am representative told us a few years back, "Our average customer doesn't shop based on price. They are more concerned with performance and we are a performance company." So we were surprised when Can-Am became the first company to directly challenge Polaris' price-point dominance with their new Outlander L models, and, most notably, the L 500.
The L 500 received the proven and recently updated Rotax 500 V-twin engine, housed in a slightly revised version of Can-Am's Generation 2 chassis. In our Outlander L 500 DPS First Test, we declared it the "2015 ATV of the Year." With an extremely attractive price tag, an industry leading 5-year warranty, and seemingly little sacrificing in the performance department, the Outlander L 500 was clearly a contender for the Sportsman 570's crown as a price-point leader. The Can-Am's arrival sets up a shootout that should result in more units sold than any other this year, the 2015 King of Value 4×4 ATV Shootout.
Brought to you by Maxima Racing Oils
This ATVonDemand.com production is brought to you by Maxima Racing Oils, the official high-performance lubricant of the 2015 King of Value 4×4 ATV Shootout. Visit them online at Maximaiusa.com.
Setting the Stage
Our shootout took place at Haspin Acres Off-Road Park in Laurel, Indiana. Haspin's 750 acres feature trails ranging from wide open and fast to technical and rocky; there is even a sand section with a little short course we used for lap times. Over four days of testing we encountered dry dirt, slick muddy trails, and virgin snow. Our test riders included Joe Hunt, a novice who stands 5'11" and weighs 185 pounds, and Damon James, a beginner level ATV Rider and Grizzly 700 owner. Damon stands 6'2" and weighs 125 pounds. For the shootout, Damon wore Fly Racing's new Maverick Dual Sport Boots, featuring a shorter height and cleated sole; Patrol Pants and Jersey; 907 Cold Weather Gloves; Kinetic Impulse Helmet; Focus Goggles; and Patrol Riding Jacket. Also decked out in Fly gear, Rob Ray is highly skilled on quads, three-wheelers, and dirt bikes. He stands 5'8" and weighs 210 pounds.
Scoring System
To determine which machine is king, our riders evaluated and rated them on many aspects of performance using a 10-point scoring system. Each machine can earn up to 10 points based on rider ratings. They can each earn up to two bonus points by winning four bonus challenges worth a half point each. Those special challenges include Initial Value, 1/8 Mile Drag, Woods Moto, and Best Utility.
Special Test: Initial Value
For our shootout, Polaris outfitted us with their 2015 Sportsman 570 EPS, Polaris Pursuit Camo model, while Can-Am sent us a 2015 Outlander L DPS. Each manufacturer offers three comparable models: one without power steering, one with power steering, and a power steering-equipped camouflage version. The base model Sportsman retails for $6,599; the Outlander for $6,999. The power steering-equipped Sportsman retails for $7,499, and the EPS-equipped camo model retails for $7,999. Whichever model you choose, the Polaris is $400 less expensive.
For a direct comparison, the $7,499 non-camouflage Sportsman 570 EPS enjoys the addition of power steering for its $900 price increase over the base model. For the $7,899 Outlander L DPS' $900 price increase, you get power steering, cast aluminum wheels, and an upgrade in its drivetrain from Can-Am's auto locking Visco-Lok front differential to their faster engaging Visco-Lok QE system. No matter which model you choose, Can-Am covers the Outlander L with an industry-leading, 5-year warranty. Our Polaris dealer quoted us $950 to purchase a 5-year warranty for our Sportsman. While the Polaris models retail for $400 less, by the time you add a $950 five-year warranty, they'll set you back $550 more than a comparable Can-Am. Its warranty alone was enough for all of our test riders to declare the Can-Am the winner in initial value.
Engine Performance
The 567cc, fuel-injected, ProStar 570 engine powering the Sportsman was originally developed a few years back to propel the 283-pound heavier RZR 570 side-by-side and its two occupants. It features a four-valve, double-overhead-cam design and puts out 43.7 horsepower according to the California Air Research Bureau (CARB). The Outlander's fuel-injected, 499.6cc, Rotax v-twin features four-valves and single overhead cams per cylinder. It was most recently updated in 2013 and produces 45.6 horsepower according to CARB. That's the same horsepower CARB lists for the Yamaha Grizzly 700. Both the 500 and 570 possess more horsepower than any other machine in their class, regardless of retail price. Both engines feature fully automatic transmissions with high and low forward ranges, neutral, reverse, and park. Engine braking comes standard on both. Each of these engines is very effective in its own way, and which one is for you may come down to how you ride and your intended use.
Polaris: The Sportsman 570 delivers low-end power that will make most big-bores jealous. It easily takes the win in low-end power, and remains competitive in the midrange, but the engine struggles to gain to build speed in the upper 50mph range. Both machines feature responsive transmissions. The Polaris' low range seems geared lower, helping get a heavy load moving, but offering less versatility on the trail. Polaris took top honors in engine braking due to its notably stronger stopping force, which comes in handy while loaded or towing. In ride-ability, the 570 edged out the Can-Am, due greatly, in part, to its immediate low-end power delivery.
The riders were split with Joe preferring the Polaris' engine due to its easier-to-access immediate power. Despite enjoying a 68cc advantage and scoring higher in low-end power, engine braking, overall ride-ability, the Sportsman 570 takes second by less than 2/10 of a point.
Can-Am: The Can-Am's low-end power delivery is smooth, but feels a bit lacking compared to the Sportsman. Midrange power comes rushing in with a smooth sport-quad like quality. The 500 seems to pull harder through the midrange and seems willing to rev endlessly. The Can-Am's transmission's low range seems geared higher than the Polaris. Combined with the 500's wider power band, its low-range was more versatile for the trail riding and work. Although its engine braking wasn't as powerful, the riders preferred its lighter, smoother engagement. Overall ride-ability suffered a bit as the v-twin's midrange and top-end oriented power band require you to rev the engine more and ride harder to match the off-idle punch of the Polaris.
Scored higher by Rob and Damon, winning in transmission effectiveness, midrange power, and dominating in top-end were just enough for the Outlander L to pull past the Sportsman in engine performance.
| | | |
| --- | --- | --- |
| Engine | Can-Am | Polaris |
| Low-end Power | 6.5 | 9.17 |
| Midrange Power | 8.33 | 7.5 |
| Top-end Power | 8.83 | 6.67 |
| Transmission Effeftiveness | 8.67 | 7.33 |
| Engine Braking | 8 | 8.5 |
| Overall Ride Ability | 8.33 | 8.5 |
| Total Score | 8.11 | 7.94 |
Special Test: Drag Race
As an extra test of engine performance, we hit Haspin Acres' dirt drag strip switching riders and lanes repeatedly. The Sportsman got the holeshot every time with the tremendous torque and low-end power of its 567cc single cylinder engine. By the end, though, the Outlander's 499.6cc v-twin engine had the top-end power and speed to run down the Sportsman.
The Sportsman regularly reached the 58mph mark by the finish, while the Can-Am reached 62 on one occasion and was looking for more runway. The Outlander L 500 was able to beat the Sportsman 570 on two out of three runs, so the Can-Am takes the win in the drag race, winning another half point.
Drivetrain Performance
Shaft drive to all four wheels and the ability to operate in two-wheel-drive are where these machines' drivetrain similarities end. Both use four-wheel-drive systems that are a bit unconventional. The Sportsman has what Polaris refers to as all-wheel-drive. To maintain light steering in all-wheel-drive when traction is abundant, the 570 provides drive to the rear wheels only. If the rear wheels begin to spin marginally faster than the front wheels, the front wheels engage delivering locked-in, true four-wheel-drive. When traction is restored to the rear wheels, the front wheels automatically disengage.
The Outlander L DPS uses Can-Am's Visco-Lok QE four-wheel-drive system. The Visco-Lok system operates like a limited-slip front differential, allowing for easier steering. If one tire begins spinning faster, then the front differential automatically, progressively locks in, providing equal power to both front wheels. When traction is restored, the Visco-Lok progressively unlocks.
Polaris: It's difficult to fault Polaris' all-wheel-drive system. It works well nearly everywhere on the trail locking in and providing predictable locked-in four-wheel-drive in sand, snow, or deep mud. We found a couple of instances where the AWD system faltered, and they were mainly apparent because we rode the Sportsman back-to-back with the Outlander L.
The first was climbing a two-stepped rock ledge where the rear wheels would break traction for an instant while the front wheels engaged. This costs a bit of momentum, while making traction and handling a little less predictable. On slick, side hill trails, Rob noted the back end sometimes stepping out just before the front wheels kicked in affecting steering predictability. For working, the 570's drivetrain works flawlessly for pulling or pushing, although there was some front-end push while pulling a loaded trailer since the front wheels wouldn't engage to help pull the front end through the turns.
Polaris' all-wheel-drive system works well, but its occasionally unpredictable engagement also had an impact on its effectiveness.
Can-Am: The Can-Am had no issue finding traction in sand, mud, or snow, but seemed to excel in situations that challenged the Polaris. Working its way up the rock ledges, the Can-Am's continuously driving front end helped pull it up and over, with more consistent traction making this obstacle easier on the Outlander. Steering was more predictable when pulling a loaded trailer on the Can-Am's since its continuous front-wheel drive helps pull you through turns.
The Visco-Lok Quick Engagement front differential found in the 500 DPS locks in quickly and smoothly when one front wheel loses traction and begins spinning. Our riders had no complaints regarding the speed or smoothness of the front end's engagement. It's worth noting that if you are interested in the base model Outlander L, it lacks the upgraded Quick Engagement Visco-Lok system and will take a little longer to engage both front wheels.
Our riders unanimously preferred the four-wheel-drive engagement and effectiveness of the Can-Am, giving it the win in drivetrain performance.
| | | |
| --- | --- | --- |
| Drive Train | Can-Am | Polaris |
| Four-Wheel-Drive Engagement | 9.33 | 6.83 |
| Four-Wheel-Drive Effectiveness | 9.33 | 7.83 |
| Total Score | 9.33 | 7.33 |
Suspension Performance
Both the Sportsman and Outlander use steel chassis. The Outlander features Can-Am's G2 chassis, originally released in 2012. The G2 frame incorporates different manufacturing processes and updated geometry for improved handling, rigidity, and increased strength. The Sportsman's frame is based on its original design, which dates back to its release in 1996, although it benefits from 19 years of refinement and was most recently updated in 2014 to house the new ProStar engine.
The Outlander Features a dual A-Arm front suspension design delivering 9 inches of travel while the Polaris utilizes McPherson struts with 8.2 inches of travel. Out back, the Outlander features Can-Am's sway bar-equipped, Torsional Trailing Arm independent suspension featuring 8.8 inches of travel. Polaris' sway bar-equipped, dual A-Arm rear suspension has slightly longer legs with 9.5 inches of travel. The Can-Am features five-way preload adjustable shocks at all four corners. Only the rear shocks on the Polaris feature five-way Preload adjustment; the front struts are non-adjustable.
Polaris: To put it simply, the Sportsman 570's suspension just works well. On small bumps, it's not quite as plush as the Can-Am, but its not harsh by any means. On larger bumps, jumps, and G-outs, the Sportsman feels bottomless in comparison to the Can-Am. In uneven bumps, the Polaris tracked straight and didn't wander. In whoops, it got beat up a bit in the ratings because Rob pushed it hard enough till it kicked out. However, if we simply looked at the suspension's ability to absorb bumps, it would win the suspension category.
Rider ratings on the Polaris' suspension were a mixed bag with Damon scoring it higher of the two. With its rear shocks in the softest setting, they were firm enough for all the work and play we dished out, but couldn't be softened up enough to make them as plush as the Can-Am. Despite scoring higher in large and uneven bumps, and their excellent all-around performance, the lack of adjustment up front and usable adjustment out back were enough to keep the 570 from taking the win in suspension.
Can-Am: Can-Am's Outlander L is the king of plushness. Cruising along, it does a superb job of sheltering you from the small bumps. In rock gardens, chop, and uneven bumps, the Can-Am can get a little busy feeling at speed. We softened up the rear shocks all the way which helps the 500 track better. On big hits, the front shocks will find their limits first and the Can-Am bottoms notably easier than the Polaris, even with the shocks set at full stiff. We ran the front shocks one notch from full stiff to offer more bottoming resistance and reduce body roll. The feeling of the Outlander's shocks rated higher in the whoops, but the Can-Am was framing out on the faces of some, which we wouldn't want to do for long on a machine we just purchased. For work, we firmed up the Outlander's shocks all the way, with very good results.
Preferred by Rob and Joe, the Can-Am takes the win in small bumps and tune ability, but if suspension adjustability hadn't been a factor, the Polaris would have won this category. The Can-Am is plush, but can be firmed up enough. The Polaris firmer ride can't be softened up, so while it's not extremely clearcut, the adjustability of the Can-Am's shocks brought home the win in suspension.
| | | |
| --- | --- | --- |
| Suspension | Can-Am | Polaris |
| Small Bumps | 8.33 | 7.33 |
| Large Bumps | 7.17 | 8.17 |
| Uneven Bumps | 7.17 | 8.33 |
| Whoops | 7.67 | 7 |
| Tune Ability | 8.33 | 5.5 |
| Total Score | 7.73 | 7.27 |
Handling
Chassis geometry, suspension performance, dimensions, and other factors all play a role in handling. Of the two machines, the Polaris is the widest at 48 inches, compared to 46 for the Can-Am. The Sportsman has a 50.5-inch wheelbase compared to 51 on the Outlander. The Polaris has a 33.75-inch seat height compared to 33.8 on the Can-Am. The Sportsman has 11 inches of ground clearance compared to 10.5 inches for the Can-Am.
Both machines enjoy the benefit of electric power steering. Can-Am's offers the option of three different levels of assistance and bump feedback reduction. Both machines use 25×8-12 front and 25×10-12 rear Carlisle tires. The Polaris uses Carlisle 489s mounted on steel wheels, while the Can-Am uses Trail Rolf tires mounted on cast aluminum wheels. Polaris is claiming a dry weight of 713 pounds, very close to the 703 pounds of the Can-Am.
Can-Am: Steering on the Outlander L is quick and precise. For most riding situations, the Tri-Mode Dynamic Power Steering worked best in its low-assist setting providing ample assistance while minimizing the Outlander's nervous feeling at high speeds. The 500 isn't unmanageable at high-speeds; it just keeps you on your toes more than the Polaris. Our test riders did appreciate the power steering's medium and high-assist settings for slow speed rock crawling, or when hauling a heavy load on the racks.
Cornering stability suffered a bit on the Can-Am due to its narrower width and softer suspension, which allowed for more body roll. Stiffening up the front shocks and softening the rear helped flatten the machine out some in the turns, but it still requires more body English to ride aggressively. The Can-Am is only a bit lighter than the Polaris, although it feels lighter and more nimble. The Outlander only gives up a half inch of ground clearance to the Polaris, but with its softer suspension squatting more under the rider and compression farther on bumps, it ran out of ground clearance more often, although we never managed to high-center it.
Fast steering at high-speeds, a bit less stability, and suspension that lets the machine wander a bit detract slightly from the Outlander's good steering accuracy. It scores higher in power steering effectiveness and weight feeling and balance, but falling behind in stability and ground clearance kept it from out-handling the Polaris.
Polaris: The Sportsman's handling is rock solid and stable. While it doesn't steer as responsively as the Can-Am, its excellent cornering and high-speed stability lend themselves to give the Polaris the edge in steering precision. The 570's wide stance and firmer suspension settings provide flatter, more stable cornering. On high-speed trails, the Sportsman feels solid and predictable over flat or rough terrain. Its power steering gave up a bit in score due to its lack of adjustability; however, its single setting may have been better than any one setting on the Can-Am.
The Sportsman feels bigger and heavier than the Can-Am. While it feels less nimble, the 570 seems less reliant on rider input in most situations. Its suspension, which sags less and uses less travel on most bumps, gives the Sportsman a far greater advantage in ground clearance than its specifications indicate.
The Sportsman scored higher in handling among all our test riders. Scoring significantly higher in cornering and high-speed stability undoubtedly helped the 570 take the win in steering precision. With more ground clearance, plus a respectable performance in power steering and weight balance, and the Sportsman has the Outlander handled.
| | | |
| --- | --- | --- |
| Hansling | Can-Am | Polaris |
| Steering Precision | 7.17 | 7.83 |
| Power Steering Effectiveness | 9 | 7.33 |
| Cornering Stability | 7.33 | 8.67 |
| High-Speed Stability | 7.5 | 8.67 |
| Weight Feel and Balance | 8.5 | 8 |
| Ground Clearance | 7.5 | 8.67 |
| Total Score | 7.83 | 8.19 |
Brakes
These machines are stopped by dual front and single rear hydraulic disc brakes. Each features handlebar-mounted levers, which activate both the front and rear brakes at the same time, and both have brake pedals, which operate their rear brakes independently. Steel-braided brake lines are standard on both machines. The Can-Am features dual-piston calipers at both ends while the Polaris uses single-piston calipers.
Polaris: The Sportsman 570 has good stopping power, but they take a little more pressure than the Can-Am's to achieve the same results. They also give up a little feel to the Can-Am. The 570's single lever brakes seem biased toward the rear wheels, which results in the rear end locking up too easily. Backing down steep hills where you don't want much rear brake can get sketchy with braking bias as it is. The rear brake was nice for downhills when you didn't want much front brake.
With the brakes' biases toward the rear end, it kept the Sportsman from making the most of its front brakes under heavy braking. They are good, but not the best.
Can-Am: The Outlander's brakes provided superior feel and took less pressure to slow the machine. The single lever braking seemed a lot more biased toward the front wheels. You stop faster with less unwanted skidding on the Can-Am by using the handlebar-mounted lever and the rear brake pedal together. Lighter rear braking bias also means you can get out of trouble easier when braking down a steep hill on the Can-Am.
More power, better feel, and better braking bias were enough to make the Can-Am a unanimous favorite when it comes to braking performance.
| | | |
| --- | --- | --- |
| Brakes | Can-Am | Polaris |
| Brakes Front | 8.33 | 6.67 |
| Brakes Rear | 8.33 | 7.67 |
| Total Score | 8.33 | 7.17 |
Special Test: Woods Moto
Whether you buy your ATV for work or play, you're going to want to race your buddies through the woods sooner or later. Our woods moto is made up of a timed three-lap moto from a rolling start. The sandy course features lots of banked, rutted corners with a few flat and one off-camber turn. The course is about two-thirds tight and twisty with a couple of high-speed runs. The fastest is full of uneven bumps, leading up to a smooth jump just before the finish line.
Running on a snow day, our riders put in a couple practice motos to clear the track of snow. Each rider rode one machine and was given unrestricted recovery time.
Can-Am: We know the Can-Am's motor is faster, but its mellow bottom-end power seemed to hold Joe and Damon back in the tight sections where they struggled to get the 500 in the meat of the power. Rob was able to rip through the tight sections with lots of body English, getting hard on the gas early, and timing the midrange hit to rip out of corners. When the lap times came in, the Can-Am finished second with an average moto time of 1:50.20.
Polaris: Joe and Damon were faster in the tight sections with the 570's power available right off idle. The Sportsman's superb stability let it carry speed through flat turns, and Damon and Joe felt it was faster through uneven bumps. With an average moto time of 1:46.98, the Sportsman 570 was 3.22 seconds faster.
Not only was its average time faster, the Polaris was faster regardless of rider. Rob had a virtual tie at only .28 seconds separating the two machines. Damon was 3.47 seconds faster, and Joe went 5.92 seconds faster on the Sportsman 570–– making the Polaris the winner of the woods moto.
| | | | | |
| --- | --- | --- | --- | --- |
| Woods Moto Times | Rob | Damon | Joe | Average Moto Time |
| Can-Am | 01:44.2 | 01:51.7 | 01:54.7 | 01:50.2 |
| Polaris | 01:44.0 | 01:48.2 | 01:48.8 | 01:47.0 |
Fit and Finish
To measure fit and finish, we asked our riders to rate the machines on ergonomics, control operation, and lack of vibration. They were also quick to comment on other details they noticed.
Polaris: TThe Outlander's ergonomics make it feel like a big, plush, sport ATV.The long shift lever can be intrusive when riding aggressively, and you can crack yourself in the knee shifting it into park if you're sitting too forward. Although the 570 emits the power of a big thumper, its vibration levels aren't an issue.
While Polaris has worked hard to keep the Sportsman 500, now 570, modern, its dated ergonomics and controls really stood out, costing it in fit and finish.
Can-Am: The Outlander's ergonomics make it feel like a big, plush, sport ATV. Its lower bars and slimmer midsection make the 500 easier to move around on, which is good as the Can-Am benefits most from rider input. The seat is stupid comfortable! Yet, it is easy to move around on. Everything including the bars, brake levers, thumb throttle, and low-profile gated shifter feel modern, comfortable, and refined. With a smooth running v-twin engine, the 500's vibration levels are minimal.
Favored by all of our test riders in each category, the Can-Am takes a big win in fit and finish.
| | | |
| --- | --- | --- |
| Fit and Finish | Can-Am | Polaris |
| Ergonomics | 9.5 | 7 |
| Control Operation | 9.17 | 7.33 |
| Lack of Vibration | 9 | 8.33 |
| Total Score | 9.22 | 7.53 |
Utility Performance and Best Utility
With the ability to haul, tow, and pack items to bring along being so important in this segment, based on the riders' ratings, the machine scoring highest in utility performance, receives an additional half point for winning best utility. For this test, we stuffed each machine's onboard storage with all the cargo it could hold. We attached 300 pounds of sand bags, made suspension changes if necessary and drove each machine. With the two units' specs listing them within 10 pounds of each other, we let them take turns pulling each other on a trailer that weighed around 350 pounds.
The Sportsman has a 6.5-gallon semi-dry storage box in the front, plus another good size box located under the rear of the machine that can be accessed even when the racks are loaded down. The Can-Am has a 2.9-gallon, semi-dry storage box located in the center of the rear rack. The Polaris has composite racks with exposed tubular steel sections for attaching tie-downs. Its combined rack capacity is rated at 270 pounds. The Can-Am features tubular steel racks. Its combined rack capacity is rated at 360 pounds. The Sportsman features a 1 ¼ hitch receiver and it rated to tow 1,225 pounds, while the Outlander has a built-in tongue with ball mount and is rated to tow 1,300 pounds. We look at these numbers more as guidelines than rules as we loaded the Polaris racks down with 30 pounds more than they were rated to hold.
Can-Am: Can-Am and Polaris both make a lot of cool, easy-attach accessories for their racks, but as for who can get the most work done the easiest without spending additional money, the Can-Am's racks rule. Their tubular-design means that tie-downs can be attached at any point and cinched down hard. The tubular design also created more concentrated contact points with cargo. This and the rough, durable powder-coat finish help keep your cargo in place more securely.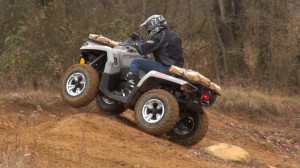 The Outlander's engine in no way struggles with a load, but when it comes to working, low-end power is king, and the Can-Am has a bit less. We firmed up the Can-Am's suspension all the way as a precaution to fight body-roll and despite the extra weight, body roll seemed pretty well controlled. Its versatile power steering's high-assist setting helped its handling rating while loaded. The Can-Am was squatting a bit under the load and while its ride was plush at our moderate testing speeds, the Can-Am was a bit closer to reaching the limits of its suspension.
Although it doesn't have the grunt of the Polaris, the Outlander's low-range works well, making its engine feel capable when getting a load moving. All agreed that the Can-Am's four-wheel-drive system gave it the edge in handling while towing as it actively pulled the front end through turns, pushing less than the Polaris.
Joe envisioned the Can-Am as the most work capable of the two machines. The Can-Am's racks are easier to work with and it handles a bit better while loaded thanks to its power steering. It has other strong points, but not enough to outscore the Sportsman.
Polaris: With way more than twice the on-board storage, and a rear storage box that can be accessed while loaded, the Polaris dominates in on-board storage. However, it loses a lot of traction when it comes to its racks. Secure tie-down points are hard to come by and their much broader, flatter, less abrasive surface lets your load shift around more.
With its monster low-end power, the 570 feels unaffected by the additional 300 pounds of cargo. Its handling feels nearly as unaffected, providing rock-solid handling at our moderate testing speeds. Its single power steering setting held it back a touch when loaded and driving at a snail's pace. It was by no means difficult, though. The Sportsman's suspension held up to the additional weight with minimal sagging, allowed for minimal body-roll, and the rear preload was left at full soft! It seems that with some accessories, the Polaris could hold up to a lot more weight than we strapped to it.
With so much low-end torque, the Polaris launches off the line pulling the Can-Am and Trailer spinning all four tires. For pulling or pushing, the torque of the Sportsman is awesome! There is a hint of front-end push as the rear wheels don't break traction while pulling, allowing the front end to help pull you through turns like the Can-Am.
Rob and Damon felt like the Polaris worked hardest. The Polaris takes top honors in storage, engine, and suspension while loaded, and in towing performance, allowing it to surpass the Can-Am as best utility.
| | | |
| --- | --- | --- |
| Utility | Can-Am | Polaris |
| Storage Use and Capacity | 5.67 | 9.5 |
| Rack Ease of Loading | 9 | 7.33 |
| Engine While Loaded | 8.33 | 8.83 |
| Handling While Loaded | 8.17 | 8 |
| Suspension While Loaded | 8.17 | 8.33 |
| Towing Performance | 7.87 | 8.33 |
| Total Score | 7.87 | 8.39 |
The Winner
Polaris: The Sportsman 570's engine was super competitive and a little easier to ride and work with. Its four-wheel-drive engagement hurt it a bit, though. Its suspension is ideal for work applications. It performs well for heavier and faster play riders, but sacrifices a small amount on low-speed plushness and adjustability. Its rock solid stability through turns and at speed highlights what makes it the best handling. Stability, firm, responsive suspension and instant power were enough to make it faster through the trees. Its dated ergonomics cost it in fit and finish although it was rated best utility.
Rider ratings yielded 7.69 points plus an additional half point each for winning the Woods Moto and Best Utility special tests giving the 2015 Polaris Sportsman 570 a total score of 8.69 points.
Can-Am: The Can-Am squeaks out a win in engine performance primarily due to its wider midrange and top-end power band and transmission effectiveness. Its four-wheel-drive was preferred by all of the test riders for its more consistent traction. Its suspension is a bit plusher, with a wider range of adjustability. The Outlander feels lighter and more nimble. Its Tri-Mode power steering excelled in rock crawling and hauling and worked well on the trail. Cornering stability will have you hanging off the side a little farther and its high-speed stability will keep you on your toes. Undoubtedly, the Can-Am scored well for being fast, fun, and thrilling to ride. Whether it won in utility or not, it must be credited as a very capable worker. In the end, we believe it is the Can-Am's versatility, adjustability, ergonomics, and attention to detail that put the Outlander L 500 over the top in rider ratings.
Rob and Joe both said that they would buy the Can-Am, while Damon said he would purchase the Polaris. As scores go, the Can-Am won 5 out of 7 categories and was rated higher by all three riders at 8.34 points. Add in a half point each for winning the initial value and drag race special tests, and the 2015 Can-Am Outlander L 500 wins this shootout with a total score of 9.34 points.
| | | |
| --- | --- | --- |
| Total Score | Can-Am | Polaris |
| Rider Ratings | | |
| Engine | 8.11 | 7.94 |
| Drive Train | 9.33 | 7.33 |
| Suspension | 7.73 | 7.27 |
| Handling | 7.83 | 8.19 |
| Brakes | 8.33 | 7.17 |
| Fit and Finish | 9.22 | 7.75 |
| Utility | 7.87 | 8.39 |
| Rider Ratings Total | 8.34 | 7.69 |
| Special Tests | | |
| Initial Value | 0.5 | |
| Drag Race | 0.5 | |
| Woods Moto | | 0.5 |
| Best Utility | | 0.5 |
| Total Score | 9.34 | 8.69 |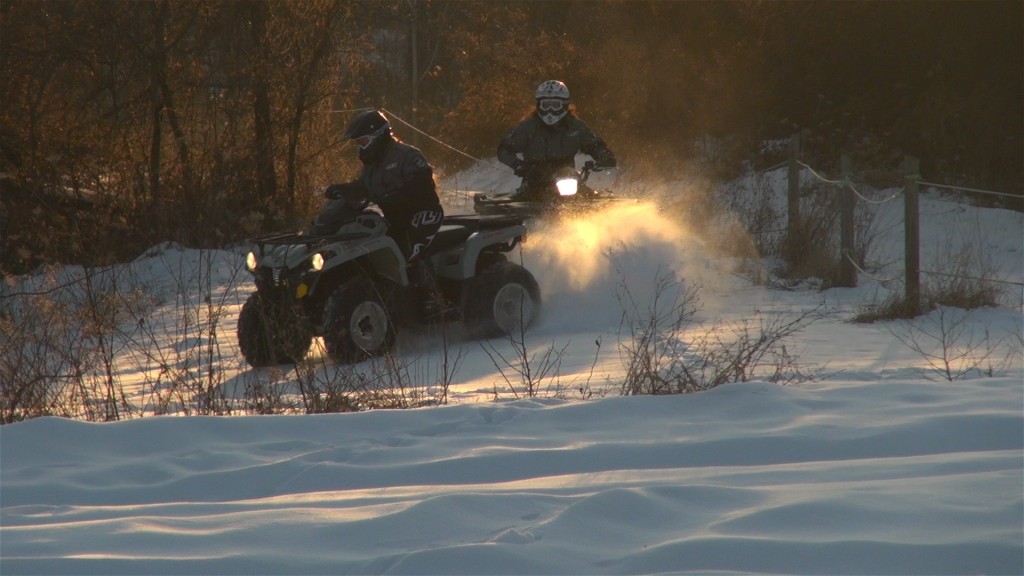 Conclusion:
In the end, we could forget the final score, as both machines are great. We could simply go buy the one with the performance and features that fit us best and have no big regrets. Of course, if we didn't purchase an extended warranty for the Polaris and it suffered a major mechanical failure after six months, we'd have some regrets then. In scoring, the Can-Am won by 6/10 of a point, but we think its standard five-year warranty clearly makes the Can-Am Outlander L 500 the King of Value in 4×4 ATVs.