Projects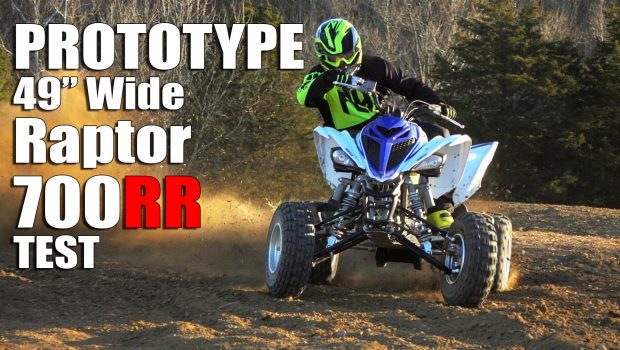 Published on April 15th, 2018 | by Joe
Prototype Yamaha Raptor 700R: Test
THE NEW wide-track Raptor 700RR, built for the modern off-road world!
Nothing creates excitement among off-road enthusiasts like innovation. It keeps die hard dirt bike riders heading back to the dealership for new bikes and helped fuel the explosion in popularity of side-by-sides.
When Yamaha released the 2006 Raptor 700R, it represented a truly modern sport ATV for the time. Its 686cc, four-stroke engine was fuel-injected and far superior than its predecessor powering the Raptor 660. The 700's hybrid aluminum and steel chassis and suspension were also next generation providing a big leap forward in handling. Without any major overhauls, Yamaha has done a good job of keeping the 700 fresh. The biggest update came in 2007 when Yamaha added fully-adjustable, reservoir equipped front shocks to the GYTR Edition 700R, which carried over to the base model in 2008, further cementing the big Raptor as a high-performance ATV for the recreational enthusiast. In 2013, the Raptor received updated styling and ergonomics. The rear brake received a dual-piston caliper and the tires featured a revised, lighter design. A new base model, Raptor 700 reverted back to basic front shocks and non-adjustable reach front brake lever to save a few hundred dollars, a sign that Yamaha was keeping up with the economic times.
Meanwhile, in 2009, Yamaha released their motocross inspired, 48.8" wide YFZ450R, A high-performance model designed to excel on the track or most trails. Riding the wave of success of Factory GNCC cross-country racers Bill Ballance and Traci Cecco-Pickens, Yamaha released the 46" wide YFZ450X in 2010. It was based on the MX width YFZ450R, but designed to excel on narrower trails. Two things spelled disaster for the YFZ450X:  the economic downturn of the late 2000s, and according to our local dealers, customers choosing between the X or the R most often went with the wider, more stable YFZ450R. The 450X didn't return in 2011. For southern Ohio woods riders to choose the wider 450R over the narrower and slightly more nimble 450X meant one of two things had changed, consumer demand, trail design, or both.
When Yamaha invited us to the Oregon Dunes in 2014 to view a non-disclosed 2015 sport ATV, we were convinced that we would be seeing a significantly revised Raptor; after all, it had been around for nearly a decade and a lot had changed in the off-road world. The Raptor wound up receiving 10% more power focused on the bottom half of the RPMs, revised suspension, and slightly taller, redesigned, 22" front tires. While undoubtedly improved, we had imagined something quite different, so with Yamaha's help, we decided to build it. Yamaha won't comment on their future plans for the Raptor; however, they have expressed interest in viewing your feedback on our prototype machine.
With a parts allotment from Yamaha and several top aftermarket manufacturers, we constructed our machine and took it to Beechmont Motorsports and Cycle Specialties in southwest Ohio, a couple of long-time Yamaha dealerships interested in supporting the sport ATV segment. Without allowing them to examine our machine, we asked their thoughts on the success of the current Raptor 700R and what updates they would like to see from Yamaha in the future. We then revealed our machine to them to gain their reactions and feedback.
The Concept
Between 2006 and 2015 a lot had changed in the off-road world. Side-by-sides had grown from 50" to 60" in width. 60" wide trails were becoming the new standard in many places, a trend that continues today. Trails that continue to enforce a 50" maximum width are only 50" wide in the tightest areas. 50" wide side-by-sides negotiate these trails, leaving plenty of room for sport quads, including Yamaha's 48.8" wide YFZ450R.
The Raptor 700R is a winner for most trail riders due to its fast, yet very forgiving, big-bore engine, slightly plusher suspension, and extremely comfortable ergonomics. While the Raptor is a very competent handling sport machine, the few viewer complaints we've seen about the 700 are usually regarding its narrower width and higher center of gravity compared to the 450.
To meet viewer demands and take advantage of today's   wider trails, based on the number one selling, king of all–terrain, the Raptor 700R, infused with DNA from the multi-time, motocross, cross-country, and Supercross championship winning YFZ450R, we proudly introduce to you, the 49.5" wide, Yamaha Raptor 700RR!
The Project
The project began with a virtually new 2013 Raptor, allowing us to build the machine we expected to ride at Yamaha's 2015 press event in Oregon. This project could also serve as a buyer's guide for anyone interested in widening their 700. As the next generation Raptor, quality and performance were of premium concern while keeping retail price in check.
Added Width and Stability
Widening the Raptor while utilizing modified versions of its current KYB shocks could save hundreds on the updated Raptor's retail price. Current Raptor owners widening their own machines could save well over $1,000 compared to purchasing new aftermarket shocks.
After a painstaking look at aftermarket  A-Arms, we felt that Houser Racing's +2", regular travel A-arms were a  real standout. First, they were designed to work with stock length shocks. They're constructed in northern Ohio, not China, of TIG-welded, 4130 chromoly. While most other manufacturers are taking a minimalist approach to standard travel A-Arms, Houser adds features like gusseting on either side of the lower shock mount adding strength and rigidity. Needle bearings and grease ports are standard, not optional, upgrades. They come complete with new sealed ball-joints, powder coated, chromoly tie-rods, and all the necessary hardware.
While Yamaha might not add adjustable A-arms to a sport ATV, the Houser arms are camber and caster adjustable, which we set up to mimic Yamaha's current factory settings. Houser's unique, patented, Slicast, caster adjustment system features a rotating cam design with 11 positions of adjustment, allowing you to dial in the front end for faster steering or improved high-speed stability. Slicast allows you to make caster adjustments in minutes with no need to measure.
Wider A-Arms require the use of longer brake lines. We have had good luck with HEL Performance brake lines in the past, so we installed a set of their +3" front brake lines on our Raptor. HEL Performance Brake Lines are constructed of stainless steel braided Teflon hoses. The lines feature a non-abrasive PVC outer coating, along with stainless steel fittings, which are permanently swaged together. They're available in different colors to match your machine. We went with black for the OEM look.  Billet brake line clamps from Tusk Off-Road secured our brake lines to the upper A-arms.
With the Raptor's mild weight and big torque increase over 450cc class machines, strength was of the utmost concern when selecting an axle. Having asked literally dozens of top racers through the years what axle they would choose to buy if they were forced to pay retail price, the answer was always unanimously the RPM Dominator II. Even those sponsored by other brands said the same thing. Price wise the Dominator II is right in line or less expensive than the other top brands. While you can get axles out of China for a couple hundred less, a severely bent or broken axle could cost you that much money from a ruined day of riding, or much worse if it results in a crash.  RPM Dominator II axles are made in America and are covered by a lifetime guarantee against bending or breaking as long as you're the original owner and you register your axle with RPM. The axle can be adjusted between +2" and +5" longer than stock with two 1" and two ½" spacers. We set the back of our machine up at 49.5" wide, 1/2" wider than the front. New castle nuts and zinc plated hitch pins are included.
We wanted a tire that would provide a bit more stability, so we utilized the 21×7-10 front and 20×10-9 rear Maxxis tires used on the YFZ450R. The front tires are 1" shorter than those used on the current Raptor, but beyond that, both ends feature a more squared off, lower profile.
Updated Factory Suspension
The KYB shocks had to be updated to work with the 2" wider A-arms.  We wanted the 700RR to have reduced body roll, with more bottoming resistance up front, and a ride that would still absorb typical trail clutter, so we turned to the suspension tuning experts at Race Tech. They installed their Gold Valve Conversion Kit in our front and rear shocks, setup for a 200 pound rider who rides both trails and tracks. After all, the Raptor is a versatile machine.
Race Tech's Gold Valve Conversion Kits includes their Gold Valve piston, which prevents oil flow restriction at the piston, custom built shim stacks providing a tailored damping curve, and your choice of their Sport or Race spring kits. In the interest of ground clearance and simplicity in tuning, we went with the standard preload style, Sport Spring Kit. You could achieve a lower, more stable ride height with their Race Spring Kit, where preload affects ride height more than spring rate. Confused? Race Tech can help you figure out which is best for you.
Improved Protection
Before we hit the trail with any of our personal sport ATVs, we always install a good engine and chassis skid plate. In fact, we think it should be standard equipment. Yamaha's GYTR, 3/16" thick, 5052 aluminum skid plate bolts up perfectly with all the necessary hardware included. It offers full coverage of the frame and engine, offering access ports for changing oil without removal.  It's one of the best investments you can make in preventing expensive repairs in the future.
Updated Cockpit
The Raptor already has excellent ergonomics, but with the expectation of cornering at higher speeds, plus the fact that the Raptor is likely to encounter wet trail conditions, we felt a gripper seat was mandatory. Made in the USA, Quad Tech is well regarded for constructing premium quality seat covers. Our custom seat cover featured blue gripper vinyl on top that beautifully matches Team Yamaha Blue.  The high-traction, rubberized super grip material on the sizes has a raised, round textured surface that reminds us of the suckers on an octopus' tentacles. It's the most well-made seat cover we've seen for inclement weather conditions in terms of looks, construction, and fitment. Other designs and colors are available.
Quad Tech's stock height, replacement seat foam is claimed to be softer and more durable. We added it to see how it performed with the new cover.
Appearance
While we love Team Yamaha Blue, we don't love the white stress marks that come with it over time. We used new factory plastic throughout with white fenders eliminating the possibility of stress marks. Team Yamaha Blue was utilized on the more rigid tank cover and nose piece tying in nicely with the new seat cover. Silver powder coat doesn't show scratches nearly as much as other colors, so it's our color of choice for the frame.
Offering a number of pre-designed and custom graphic options, FTR Powersports' Flashback graphics kit offered a clean modern look with classic Yamaha undertones. We love it!  While we were at it, we installed one of FTR's frame guard kits. They're available in colors to match the rest of their graphics kit, although we ordered ours clear, maintaining and protecting our frame's factory fresh appearance. FTR's graphics are constructed of thick, durable vinyl and we found them to line up with the frame and bodywork with near perfection.
The Test
To put the Prototype Raptor through its first test, we took it back to ATV friendly Nickota Motorsports Park in Bedford, Ky. and to some private trails. Test rider, Rob Ray, rode in our last YFZ and Raptor reviews, in addition to the YFZ vs Raptor shootout. Dressed in Patrol riding gear from Fly Racing, the current Raptor reigns as Rob's favorite sport ATV, past or present, leaving us eager to hear his feedback regarding the widened 700RR.
Powering out of the first turn, the increase in stability is immediately apparent. The combination of the +2 Houser A-Arms, Dominator axle, Race Tech suspension, and YFZ450R spec Maxxis Tires allow you to rail corners at a higher rate of speed while using less body English. In-spite of the machine's wider width, the new suspension settings kept body roll well under control both in turns and on side hills.
The wider Raptor does suffer a small amount in low-speed maneuverability with a small increase in turning radius due to its extra width. We didn't notice it getting in the way on the trail, but it was detectable. You occasionally have to slow down a bit more for tight sections, but the extra stability makes up for it everywhere else.
As our first outing on the machine, we had no time to finalize suspension settings although all of our wishes seemed to have been fulfilled by Race Tech. Along with keeping the front end riding more level in turns, the front shocks no longer blew through the travel as easily on g-outs and steep jump faces. It takes flat landing from a pretty big jump before they'd use all of the travel at either end. The machine remains fun and predictable in the whoops; something we think we can further improve upon when we dive deeper into fine-tuning the shocks.
On the trail, the shocks did a good job of reacting to the smaller, high-speed impacts from roots and rocks that affect traction and can wear on you on long rides. The 700RR's suspension remained a bit more compliant than the YFZ when soaking up trail junk.
Designed to work on the trail and the track, the YFZ450R's Maxxis tires were a step forward for the wider Raptor's handling. The small amount of rolling smoothness and bump absorbing qualities that these tires sacrifice was minimal in comparison to their reduction in tire roll in the corners.  The front tires felt more predictable in most conditions and the back tires allowed you to rail turns or square them off and rocket forward. Their willingness to break traction and hook up on demand made this maneuver easy, predictable, and loads of fun to pull off.
The chassis, suspension, and tire upgrades allow the rider to better take advantage of the rest of the machine. Rob was braking later entering turns, getting back on the gas sooner almost everywhere he rode. In a world where straightaways don't last forever, the 700RR is faster almost everywhere without adding a single horsepower. The chassis lets you better take advantage of the big-bore engine and the brakes are up to the task.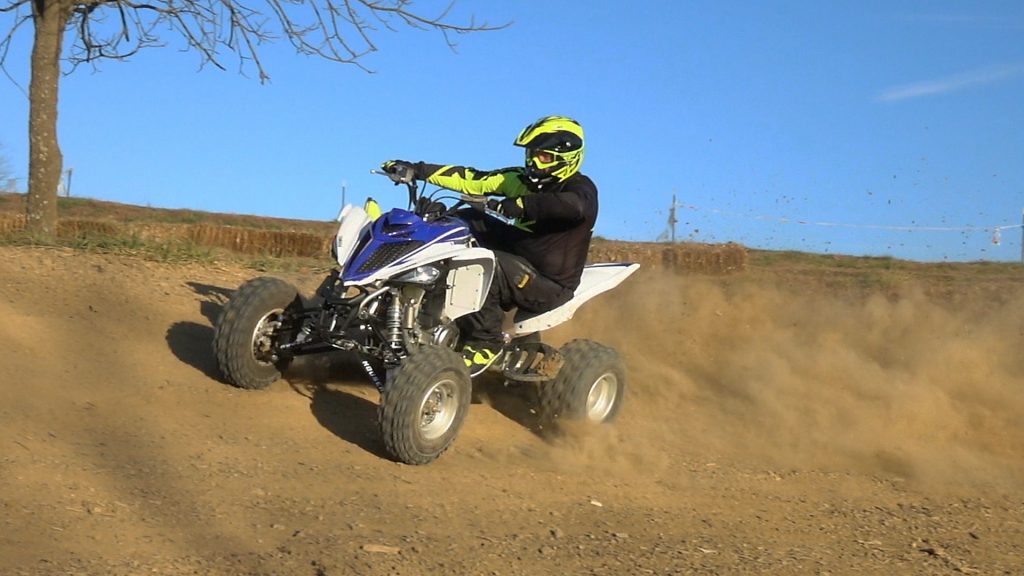 The combination of Quad Tech's new seat cover and foam seemed a bit firmer overall than stock, a small step forward for aggressive riders and a small step backwards for the most casual. The extra grip provided by Quad Tech's seat cover helps keep you planted whether you're powering down a straight or hanging off the side. The Super Grip material on the sides lets you better grip the quad with your legs and would be a huge asset in wet conditions. The extra grip allows you to relax your hands a bit more.   It was a great addition to the machine.
With its first hard day of riding behind it, the graphics are looking fresh and the sides of our frame are 100% scratch free. Our Prototype machine was getting its share of looks and Rob felt confident in the machine and its appearance.
Few would dispute that Yamaha's current Raptor 700R is an awesome ATV for the trail and the dunes. We certainly wouldn't. However, our 49.5" inch wide Raptor 700RR is an even better machine for many wooded trails, the desert, dunes, and even the motocross track. The 700RR could be a great machine for the rider who rides trails or dunes a majority of the time, but occasionally races desert or motocross just for kicks.
Conclusion
Having ridden the machine we've been dreaming Yamaha would bring to market for the past few years, we're more hopeful than ever that we'll see a Yamaha Raptor 700 similar to this one on dealers' showroom floors in the not so distant future.  As the number one selling sport ATV for a majority of the years since its inception, we believe there are a lot of current Raptor owners out there right now who would consider trading in their older Raptor 700 for a new wide-track version. Such a machine would create some much needed hype in the sport ATV segment bringing some new blood into the sport.
If you're like us and can't wait for the release of a new wide-track Raptor, you can replicate this build at a reasonable price with the same brands and components we used leaving no doubts when it comes to performance, quality, and durability.
Yamaha is interested in hearing your feedback on our Prototype Raptor 700. If you would like to see Yamaha build a wide-track version of the Raptor similar to our 49.5" wide 700RR or have any questions regarding this project, let us know in the comments below.
| | | |
| --- | --- | --- |
| Item | Manufacturer / Model | Price |
| Prototype Machine | Yamaha Raptor 700R | |
| Chassis | | |
| A-Arms | Houser Racing, +2′ Regular Travel | $725 |
| Axle | RPM, Dominator II | $390 |
| Suspension | | |
| Front Shocks | Race Tech, Gold Valve Conversion Kit with Sport Spring Kit on Stock KYB Shocks | $Call for Pricing |
| Rear Shock | Race Tech, Gold Valve Conversion Kit with Sport Spring Kit on Stock KYB Shock | $Call for Pricing |
| Protection | | |
| Frame Skid Plate | GYTR Aluminum | $154.99 |
| Controls | | |
| Seat Cover and Foam | Quadtech, Custom with Gripper top and Super Grip Material on the Sides, and Seat Foam | $219.99 $149.99 w/o foam |
| Bodywork/Graphics | | |
| Plastic | Yamaha, OEM Plastic | |
| Graphics | FTR Powersports, Full Quad Flashback Graphics | $229.95 |
| Frame Gurad Graphics | FTR Powersports, Clear | $20.00 with kit $45 w/o kit |
| Contacts | | |
| Yamaha | https://www.yamahamotorsports.com/  https://shopyamaha.com/ | |
| Race Tech | http://racetech.com/ | |
| Houser Racing | http://www.houser-racing.com/ | |
| RPM | https://www.team-rpm.com/ | |
| HEL Performance | http://www.helperformance.us/ | |
| QuadTech | http://www.quadtech-atv.com/ | |
| FTR Powersports | http://www.ftrpowersports.com/ | |