Chassis/Suspension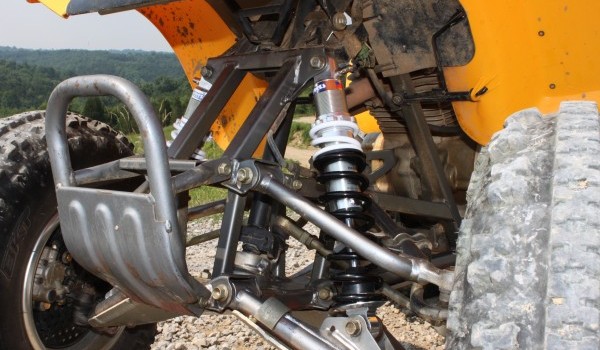 Published on July 25th, 2011 | by Joe
0
Works Performance A/T Steeler and QuadStar Shocks for the Honda 250X, 300EX, and 300X Test
Wes Alcorn is a pretty typical ATV enthusiast who enjoys hitting the trails with his buddies on the weekends.  A while back, Wes picked up his first ATV, a nice used Honda 300EX. After his first season of riding, he noticed that the rear shock was bottoming out often and rebounding too quickly. His rear shock was blown, and with enough miles on his machine to wear out the rear shock, the viscosity of the oil in the front shocks was undoubtedly breaking down, hampering their performance.
Like many older, or current entry-level machines, the 300EX's suspension isn't rebuildable. Wes could replace the stock rear shock for $392. Replacing the tiring  fronts, they would set him back an additional $520.  In the end, he would still have disposable suspension that was designed to work for many different riders' weights and ability levels.
Custom-built, aftermarket race shocks can cost up to $3500 due to their number of adjustments, materials used, and money spent on development by manufacturers, but that's more than Wes paid for his ATV! Works Performance has been building ATV shocks since three wheelers were equipped with suspension. They can easily supply you with a set of high-end race shocks; however, they regularly outfit riders like Wes with custom-built, rebuildable, aftermarket shocks for little more than the price of stock.
The Shocks
The blown stock rear shock was replaced with a Works Performance Quad Star shock. The steel-bodied Quad Star features a 5/8 shaft and threaded preload adjustment. We opted for the nitrogen –charged, remote reservoir for increased cooling capacity. The rear shock works twice as hard as the fronts, so adding the reservoir will keep the shock from fading on long, hot, summer rides. The stock rear shock offers 7.9 inches of travel while the Quad Star provides a bit more. The Quad Star retails for $659.
The fronts were replaced with Works Performance A-T Steelers. The Steelers are the number one selling sport ATV shock on the market. They come with single, double, or triple spring rates depending on the model of your ATV. The 300EX Steelers feature dual rate springs, allowing for progression throughout the travel. The latest generation Steelers features a new threaded body for easy preload adjustment. The shafts have been strengthened 30%, and the latest shocks being shipped have hidden valves in place of the schraders seen on our shocks.  The stock Honda shocks provide 7.1 inches of travel while the Works provide 8.5 inches. The dual-rate Steelers retail for $445.
Most suspension manufacturers use a valve and shim stack setup to control their shocks' damping. Works uses a series of check balls controlled bysprings which are
designed to control low speed, mid speed, and high speed damping individually. According to Works, this provides greater tenability, allowing them to make their shocks work well regardless of bump size or speed. Their rebound circuit features a main open circuit with several small shims that can open and provide faster rebound after and extreme hit.
Each set of suspension Works sells is custom built for the individual rider's weight, type of riding, ability level, and machine setup.
The Test
Our test was held at Bill's 491 Off-Road Park in Demossville, Kentucky. The park is open to ATVs, bikes, 4×4's, and is spread over 240 plus acres.
After spending 30 minutes installing the shocks trailside, we were ready to rock. The difference between the new Works shocks and the aging Hondas was dramatic. Gone was the overly soft and springy action of the blown stock shock. In its place was the firm, yet forgiving, action of the Works Quadstar shock.
Up front, the dual rate Works Steelers provided a smooth, predictable ride. They are more responsive than the stock front shocks over small impacts from rocks and roots, and don't wallow as much on rough downhills.  Body roll in the turns was also reduced, improving cornering stability.
According to Wes, his Works equipped Honda, "…feels like a brand new machine." He added, "It floats over stuff I had to slow down for with the stock shocks."
Members of our staff took Wes's 300 for a quick spin to experience the new shocks for ourselves. We would have to say that the Works performance shocks perform notably better than even brand new stock shocks. They worked well on the trail and had enough bottoming resistance for some motocross action as well, should Wes decide to hit the track.
For a total investment of $1104, we spent only $192 more than the stock shocks would have cost and made Wes's 300EX handle notably better than new!  Our staff has used these shocks on the Yamaha Warrior/Raptor 350, and Blaster, yielding performance that crushed stock!  If you have an ATV with non-rebuildable shocks and you want to improve your ride, Works Performance Steeler and QuadStar shocks are rebuildable and offer superior performance for a very reasonable price.
Company: Works Performance
Product: AT Steeler Dual Rate Front Shocks,       $445
Quadstar Rear Shock With Reservoir,                     $659
Contact: www.worksperformance.com
Works Performance A/T Steeler and QuadStar Shocks