Projects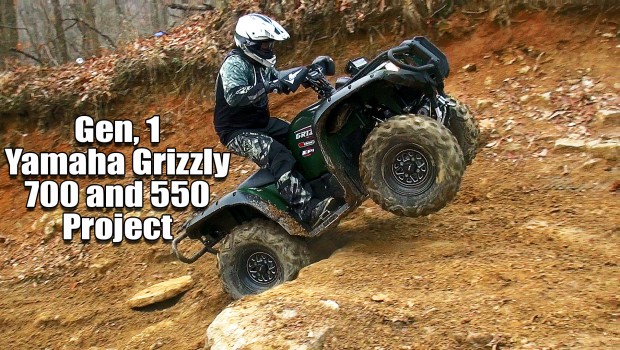 Published on February 4th, 2016 | by Joe
Yamaha Grizzly 700 and 550 Upgrade Project
Bring your older Grizzly up to 2016 standards and beyond.
For 2016, Yamaha did a virtual redesign of their Grizzly 700. A two-inch increase in width in the past few years in combination with new suspension settings, updated ergonomics, and a new, more powerful engine yield a somewhat familiar, yet totally improved, machine.
If you have an older Grizzly 700 like our relatively pristine 2010 model, there are many things that can be done to bring its performance up to 2016 standards and beyond. With so many of these machines out there, we decided to build a generation 1 Grizzly that can play harder out on the trail while providing a higher level of comfort and control. If you own a Grizzly 550, nearly all of these upgrades will work for you as well.
Of course, if you're the owner of a well-worn, older Grizzly, trading up to a new machine will definitely be the most cost-effective way to go, and the improvements to the 2016 model provide a good amount of incentive to do so. This project is best suited for older Grizzlys in very good shape that may already have a few add-ons, and could benefit from a few more.
From the Ground up
In 2014, Yamaha widened the Grizzly's track 2". For 2016, they went from a 25" to a 26" tire. To add some width and stability to our Grizzly, we ditched the stock 5+1 and 5 ½+2" offset 12" steel wheels for a set of 4+3 " offset, 12" DWT Stealth Wheels adding around 2" of width to the machine. The Stealth Wheels are made in the USA of cast aluminum, heat-treated for enhanced strength. They feature a machined black finish and molded-in center cap providing a clean, refined appearance. Their machined center provides the same striking look as the billet center on DWT's 3-piece Sector beadlock wheels, at a much more affordable price. The Stealth Wheels weigh a bit more than DWT's proven, simple looking Ultimate Sport Wheels. However, their added weight comes with enhanced strength and appearance.
Like Yamaha, we too switched from a 25" to a 26" tire for a smoother ride over bumps. The DWT Stealth Wheels were wrapped in a set of 26×9-12 front and 26×11-12 rear DWT Moapa tires. The Moapas feature a wide contact patch and aggressive tread pattern designed to work in a variety of conditions, which we typically encounter on any given trail ride. Their tread wraps around the sidewalls to enhance puncture resistance, and improve traction in deep ruts. As premium tires go, they are most comparable to the Maxxis Bighorn, but with a slightly different and more open tread pattern that appears a bit more focused on delivering side bite.
The Moapa's six-ply construction offer enhanced durability over most OE tires. While tires with radial construction often offer a superior ride, they are also typically heavier and more expensive. The Moapa's bias-ply design makes them around two to four pounds lighter per tire than other comparable tires featuring radial construction. Saving 10 or 12 pounds of unsprung, rotating mass makes a big deal in handling and acceleration on an ATV. We also found them to be considerably less expensive than similar use, premium brand, radial tires.
Power up!
Adding taller, heavier tires to a CVT-equipped ATV demands a change in clutching to ensure maximum performance and durability. EPI is a leader in CVT clutch setup and calibration. They offer many different kits to suit different tire sizes, horsepower, and intended uses. As a machine we wanted to occasionally use for hauling and plowing, EPI recommended that we use their Sport Utility Kit, calibrated for 0-3000 feet of elevation and 27-28" tires. The Sport Utility kits are calibrated to improve performance without sacrificing ride-ability
This kit includes stiffer, wet clutch springs, allowing the engine rev an additional 300-400 RPMs before engaging. This allows the engine to build a little more horsepower, initially, for faster takeoffs and better low-speed responsiveness with bigger tires. A stiffer main spring is used for faster downshifting and it increases belt pressure reducing slippage. Lighter roller weights are used to allow the engine to gain back the RPMs it loses from turning taller tires, letting the engine once again work at peak power.
We ordered our Sport Utility Clutch Kit with EPI's, top-of-the-line, Severe Duty Belt. It's designed to handle higher horsepower and work loads, with a double-cogged design to improve cooling. Although your belt should be replaced periodically, we expect a little more life out of the Severe Duty Belt, reducing maintenance.
To boost horsepower, we installed a HMF Titan Series Exhaust. Formerly known as the Swamp Series, the Titan is constructed of stainless steel with a CNC machined aluminum end cap. Stainless steel makes the Titan corrosion resistant and gives it the ability to stand up to extreme temperatures. It features a larger shell with more internal volume to increase horsepower and torque, while suppressing sound output. With the quiet version producing a claimed 94db, it's virtually as quiet as stock. Making more power without significantly more noise makes both us and those around us happy.
Adding a piggyback fuel injection module like HMF's Fuel Optimizer is mandatory with the addition of a freer flowing exhaust. The system plugs in in minutes and provides easy-to-use, push button, on-board tuning with no laptop computer needed. This makes fine tuning out on the trail a quick, easy, and somewhat fun process. It's a lot easier than changing jets in a carburetor.
Yamaha's new 2016 engine is said to produce 6% more horsepower and 9% more torque than the 2015 model. According to HMF's dyno, with the addition of their exhaust and Fuel Optimizer, our machine should gain an average of around 9% more horsepower and 10% more torque.
Suspension Upgrades
Whether you realize it or not, on an older machine, chances are the performance of your stock, non-rebuildable shocks is beginning to suffer. With more leverage being placed on our stock shocks by the wider DWT Stealth Wheels, we felt a shock upgrade was in order, so we contacted Works Performance Suspension.
Works Performance builds each set of shocks for your machine, its setup, your weight, and intended riding style. We opted for the extra cost of piggyback nitrogen reservoirs as we planned on using this machine for long excursions of aggressive riding, where their enhanced cooling abilities will be of benefit. Using piggyback shocks as opposed to remote reservoir shocks also simplifies the installation process with no remote reservoirs to clamp to the machine.
For enhanced progression throughout the stroke, Works builds a dual rate spring stack for the front shocks, with a triple rate setup for the rear. All of their shocks feature threaded preload adjustment allowing you to firm or soften the shocks for different uses. Works' exclusive, spring-loaded, check ball, valve system provides a progressive damping curve with three circuits for low-speed, mid, and high-speed impacts. Smaller hits only activate the low-speed circuit, while mid-size, and larger hits can open two or all three circuits if needed. Rebound is handled by a low-speed rebound circuit, while a shim stack controls access to three additional rebound circuits available for recovery from larger, higher-speed hits.
Replacing your stock shocks with new stock shocks would set you back around $900.00. The shocks we are testing are around $1,900, and adding external compression and rebound damping adjustments drive their cost up from there. On the flipside, Works can build you a set of custom shocks without reservoirs for around $1,200, providing enhanced performance and unlike your disposable stock shocks, when the oil starts breaking down or if a part should wear out or fail, Works' shocks are 100% serviceable. Custom spring colors are included, so we opted for black.
Battle Hardened
In addition to improving handling and performance, we wanted to enhance our Grizzly's durability. If you ride in rocky terrain, a good set of skid plates is one of the smartest investments you can make in your ATV to help prevent expensive repair bills, while enhancing the look of your machine. Ricochet's skid plates are constructed in the USA of 3/16" 5052 H-32 aluminum. Their 10-piece skid plate set covers the entire underside, lower front, and lower rear of the machine. It includes full frame skid plates with floorboard protection that wraps around the lower edges of the floorboards. The kit also includes front and rear A-Arm/CV Boot Guards, and a separate plate covering the area around the hitch. The front chassis skid plate wraps up protecting the lower front of the frame, while a rear plate protects the chassis above the trailer hitch.
Ricochet attaches their skid plates with rounded, low-profile, T-40, Torx head bolts to help reduce the chances of sheering off a bolt head. Their clamps are constructed of chromoly, heat-treated for strength, and zinc-plated to prevent corroding. Ricochet used high-quality lock nuts, so there's no need to deal with locking washers or worry about things rattling loose.
The skid plates bolt up beautifully with all of the Grizzly's stock hardware and offer a ton of protection. With the wider base of the Works Performance Shocks, we had to do a little spacing with washers on the rear skid plates and bend the front CV guards forward a couple of degrees to create the needed clearance. Bending the front CV guards forward resulted in their ends impacting the front brakes on sharp corners, so we had to trim the CV guards down. Again, this custom fabricating was due to the larger diameter Works' shocks. It's unreasonable to expect a company to test their products with every possible aftermarket variable out there, so there's no complaints on our end whatsoever regarding fitment.
Front and rear bumpers from Kimpex add additional protection, grab points, and more area to tie-down to. The front and rear bumpers are constructed of steel with a textured black, powder coat finish. The front bumper features a polyethylene center, helping to absorb shock from impacts and reducing the chances of scratching up the bumpers' finish while using a winch.
The front bumper requires the purchasing of a separate mounting kit. The bumpers come with instructions printed in French. Fortunately, the accompanying pictures do a decent job of explaining the mounting process. It took us around an hour to get them mounted up.
Finally, we added a set of Maier Fender Flares to help protect us from debris flung from our wider DWT wheels and tires. They also covered the scratches on the sides of our fenders from close encounters with trees, providing a fresh new look. They feature a textured black finish and come with all the necessary mounting hardware. With one person lining them up and another drilling the necessary holes, you can attach Maier's Fender Flares in around 30 minutes.
Ergonomics
The Grizzly's stock ape hanger-style handlebars were replaced with a Rox Speed FX Combo Kit. The kit includes 5" Rox pivoting handlebar risers, Fly Racing CR high-bend Fat Bars, handlebar pad, and a Rox Dash Panel to clean up the look of the controls.
The combination of the Fly, Fat Bars, and 5" Rox Risers raise the bars just under an inch. The sweep of the bars is reduced 10 degrees from 29 to 19 degrees, and the Fat Bars are 3" wider than stock at 32". Rox's pivoting risers are made in the USA of CNC machined 6061 T-6 aluminum and allow you to move the bars more forward or rearward to best suit you. The straighter, wider bars help bring your elbows up for aggressive, sport-style riding, and their increased width provides more leverage over the front end.
For protection against flying mud, debris, and cold wind, we added a set of Rox's Flex-Tek handguards. They mount to the handlebars with CNC machined aluminum clamps. The handguards feature a flexible plastic inner structure with a larger, stain resistant, vinyl covering that is available in many different color options. They are a bit larger than most plastic handguards for added protection against the elements, and feature a lifetime warranty against breaking.
No matter the year of your Grizzly, Yamaha's foot pegs, in our opinion, are too short and narrow. Constructed of aluminum, Rox's utility foot pegs are 8" long, 3" wide, and taller than stock. They feature widely-spaced, aggressive teeth for traction, and kick-ups on the end for added control. We bolted them up to our Grizzly's floorboard with no modification in a matter of minutes.
Let There be Light
To keep our trail speeds up at night, we felt we could benefit from extra lighting. Available at your local dealer through Western Power Sports, Open Trail's 13.5" LED light bar features 24 LEDs pumping out 6480 lumen of light, for a small 72w power draw. The bar uses combo flood and spot reflectors, said to give a beam pattern that is superior for off-road riding. Open Trail's 13.5" bar comes with a leg for each end allowing you to angle the bar up or down. Rubber spacers are included to help dampen vibration. While it didn't come with instructions, we were able to drill and attach the light bar to the front rack, run the wiring to the battery, mount the fuse panel under the front cowling, and drill out and attach the on/off switch to the Rox Dash Panel in around an hour.
Test Time
To put our Project Grizzly to the test, we took it to Haspin Acres Off-road Park, located in Laurel, Indiana, offering a wide variety of terrain including hardpack, mud, sand, and rocky sections, with trails ranging from relatively flat and wide open, to tight, technical, and very hilly. Test rider, Damon James, was dressed for the occasion in Fly Racing's Maverick ATV/ Dual Sport Boots, featuring a shorter height and cleated sole; Patrol Pants and Jersey; 907 Cold Weather Gloves; Kinetic Impulse Helmet; and Focus Goggles.
Firing up the Grizzly, we were welcomed by the quiet, yet much sweeter sounding, HMF Titan Series exhaust. Its sound output is close to stock, but with a deeper, throatier, and more potent sounding tone. Hot starts were a bit slow with the base setting on HMF's fuel optimizer until we leaned the 0-1/4 throttle setting from the number 4 to the number 2 position. This also eliminated a minor stutter we sometimes noticed around 1/4 throttle under acceleration during our initial testing.
With our Optimizer fine-tuned a bit, the combination of the HMF Titan Exhaust and Fuel Optimizer seemed to increase horsepower across the board, with the most notable gains in the midrange. You could really feel the increase in power accelerating out of corners and up steep hills. The larger tires and increased top-end power should raise the machine's top-speed; however, we lacked adequate space to get it fully tapped out   Turning larger, heavier tires made it a little more difficult to fully appreciate the gain in low-end power; however, with no detectable loss in low-speed acceleration, we're pretty sure our Grizzly picked up a bit.
Of course, if you add larger tires like we did, recalibrating your clutch is number one. We tried the taller DWT Moapa tires with the stock clutch and noticed a dramatic loss in low-end responsiveness. Adding the EPI Sport Utility clutch kit for 27-28" tires helped our machine get rolling more quickly, with less throttle, while remaining smooth and controllable, similar to the stock clutch with the stock tires. If you want a really hard-hitting, low-end snap, look into EPI's Competition Kit.
Back shifting performance was notably improved with the EPI kit. Its benefit was apparent any time we chopped the throttle and then got back hard on the gas, whether we were accelerating out of a corner, or trying to raise the front wheels for an obstacle. EPI's faster backshifts combined with HMF's improvements in power, resulted in a snappier, more fun-to-ride engine, with no loss in ride-ability or versatility for work or play.
Our machine's wider stance and taller tires result in an overall improvement in handling and traction. In spite of the tires' taller size, the wider offset DWT Stealth Wheels and broader footprint of the DWT Moapa Tires make the Grizzly feel more stable on sidehill trails and while cornering aggressively. The only trade-off is an apparent, yet manageable. increase in steering effort and bump feedback, which would be greatly reduced on a model with power steering. This is no fault of DWT. Any time you use a wider offset wheel, it increases the leverage put on your machine's steering. We felt the increased stability was well worth it.
DWT recommended running 12 pounds of pressure in the Moapas, which is probably fine for UTVs, but seems excessive for ATVs, which are typically much lighter. We ran 7 pounds of pressure providing a better ride over bumps while keeping the side-walls stiff enough to help resist pinch flats and punctures.
The Moapa Tires delivered everything we were looking for in a tire and then some. First, they worked well in every condition we threw at them. They ride smoothly and provide predictable traction on hard-packed dirt. Their performance was very good negotiating steep rock ledges with no detectable wheel spin sapping forward momentum. Instead of burying themselves, the Moapa's broad footprint helps them with flotation in sandy sections keeping you driving forward. In mud, they seemed to do a good job of cleaning themselves out with a little throttle and the lugs are tall enough that four-wheel-drive was an afterthought traversing smaller mud holes in low-lying areas. Forward and braking traction was good in all conditions; as is directional control, only pushing a bit in slick, muddy conditions when we were riding hard in two-wheel-drive. Lateral traction was well balanced. We felt we could trust the Moapas on sidehills where we didn't want to break traction, yet we could get them to break loose and come around for power slides boosting their fun factor.
With a 700cc single cylinder engine, we were grateful for the weight savings the Moapa tire's bias-ply design provided compared to similar design tires with radial construction. We felt they offered a smoother ride and their six-ply construction is undoubtedly stronger than stock. We rode them hard in the rocks with no flat tires and no dents or dings in the Stealth wheels. You might find a tire that will perform better in a particular environment, but for all-terrain performance, DWT's Moapa Tires work great!
Suspension performance is brilliant. Works' Performance Shocks delivered a ride so plush over small bumps that it would make Can-Am, Polaris, and 2016 Grizzly owners jealous. Works' shocks sag down in the travel, unlike the stock shocks, which offer very little sag. The added sag allows the wheels to extend down into holes and ripples in the trail while traveling upward to absorb bumps that protrude upward all the while keeping the machine riding flat and level. Their small bump absorption is so vastly improved that we worried that the shocks would bottom excessively; they didn't. We hit g-outs at speed and repeatedly got several feet of air. Not only could we hardly feel the tires impact the ground, we never felt the suspension bottom out. We added five or six threads of preload from zero to slightly reduce body roll in corners and that was it. No matter what we threw at them, the Works' shocks left us grinning from ear to ear.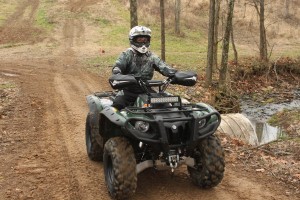 Rox Speed FX Combo Kit not only put our bars exactly where we wanted them, the Fly Racing, CR high-bend bars provide a far superior bend for aggressive riding. With the added effort needed to turn the bars and resist bump feedback, the extra leverage provided by the longer bar came in handy. As sport quad junkies, we found the Rox's Flex-Tek handguards a little strange with their vinyl outer covering, which attaches with a Velcro strap. However, they look good on the machine, and do exactly what they were designed to do. We fell in love with Rox foot pegs. They offer traction and feel that are vastly superior to stock and their kicked-up ends really come in handy on sketchy sidehills and while cornering hard.
While it's difficult to brag to your friends about the performance of your Ricochet skid plates, they'll notice how good they look, and it's easy to appreciate how much more at ease you feel hammering through rocks knowing you're not destroying the bottom of your chassis or engine. The only drawback we have found in adding them is that their increased protection for your axles and CV joints result in them collecting more mud and debris. However, the extra few minutes you'll spend cleaning will pale in comparison to replacing an axle, control arm, or even worse, a chassis or lower engine case. If we were buying a new ATV and planned on riding in or around rocks, skid plates are the first accessory we would add to protect our investment.
For turn-arounds or trail blazing, the Kimpex bumpers did a good job of protecting our machine's easily scratched, plastic body parts. They also come in handy if you or your friends need a place to strap to for towing out of a bottomless mud hole. For times we traversed a soggy trail section, the addition of the Maier fender flares really helped protect against flying mud. They do, however, show abrasions a little easier than we'd like, so be mindful traveling between trees. Overall, they were a win.
Open Trail's 13.5" light bar pays huge dividends in visibility when the sun goes down. Its bright white light really defines the shape of the terrain, right down to the little ripples in the trail. Along with the stock headlights, it adds a ton of illumination directly around the front of the machine in addition to reaching way farther down the trail. We could ride much faster, knowing what's ahead, long before we reached it.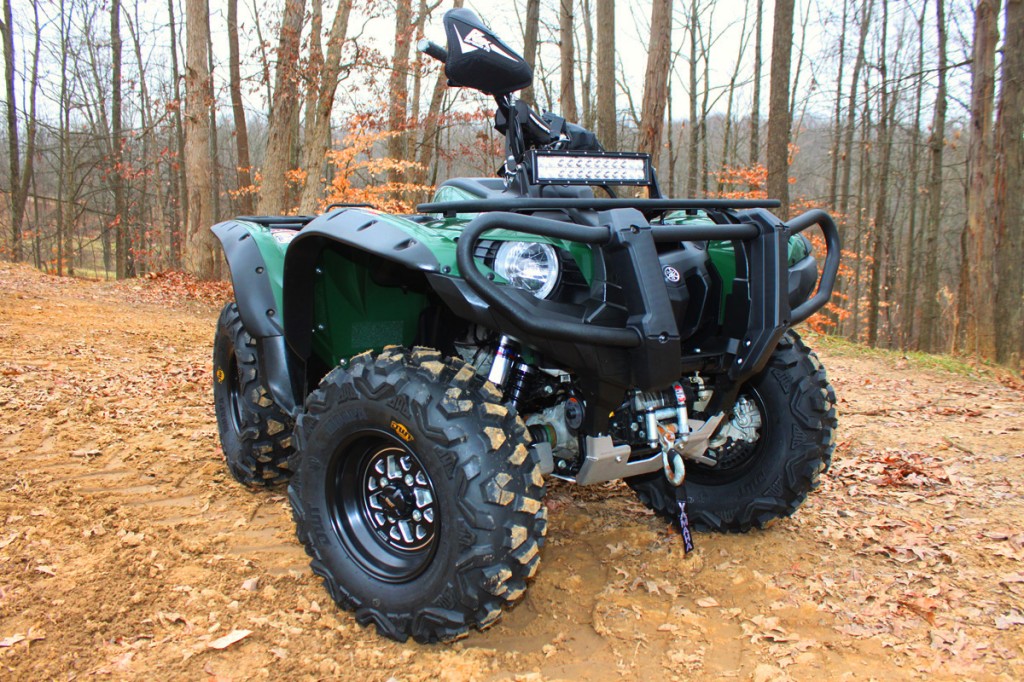 Conclusion
While the generation 1 Grizzly 700 was getting long in the tooth as years go, it is still a competitive machine by today's standards. Whether you want more power, stability, better traction, suspension, durability, improved comfort and control, better visibility at night, or all of the above, all of the products we used delivered as advertised. In the beginning, we wanted to make our Gen 1 Grizzly better for long days of aggressive trail riding; in the end, we got exactly what we wanted.
 Filmed at: Haspin Acres off-road Park
 Specifications
| | | | |
| --- | --- | --- | --- |
| | | Price | Contact |
| Engine | | | |
| Exhaust | HMF, Titan Series Stainless Steel Exhaust, Quiet | $399.95 | http://www.hmfracing.com/ |
| Fuel Management | HMF, Fuel Optimizer | $269.95 | |
| Clutch | EPI, Sport Utility Clutch Kit for 27 and 28″ tires, with Severe Duty Belt | $329.95 | http://www.epiperformance.com/ |
| Suspension | | | |
| Front Shocks | Works Performance Piggyback, with dual-rate springs | $919 | http://www.worksperformance.com/ |
| Rear Shocks | Works Performance Piggyback, with triple rate springs | $999 | |
| Tires and Wheels | | | |
| Tires Front | DWT, Moapa, 26×9-12, 6-ply | $105.88 at Rocky Mountain ATV | http://www.dwtforum.com/ |
| Tires Rear | DWT, Moapa, 26×11-12, 6-ply | $120.88 at Rocky Mountain ATV | |
| Wheelf Front | DWT, Stealth Aluminum 12×7″, 4+3″ offset | $99.95 at Rocky Mountain ATV | |
| Wheels Rear | DWT, Stealth Aluminum 12×7″, 4+3″ offset | $99.95 at Rocky Mountain ATV | |
| Protection | | | |
| Front Bumper | Kimpex, Gen 2.1 Front Bumper | $113.99 | http://www.kimpex.com/en-us/ |
| F Bumper Mounting Kit | Kimpex, Gen 2.1 Bumper Bindings | $74.99 | |
| Rear Bumper | Kimpex, Rear Bumper | | |
| Skid Plates | Ricochet, 10-Piece Skid Plate Set | $549.00 | http://ricochet-off-road.myshopify.com/ |
| Fender Flares | Maier, Fender Flares | $237.12 | https://www.maier-mfg.com/ |
| Controls | | | |
| Controls | Rox Speed FX, Combo Kit. Bar Risers, Handlebars, Bar Pad, and Dash Panel | $240.00 | http://roxspeedfx.com/ |
| Grips | Spider, Slim Line SLT Grips | $16.95 | http://spidergrips.com/spiderg/ |
| Handguards | Rox Speed FX, Flex-Tec Handguard Kit | $220.90 | |
| Foot Pegs | Rox Speed FX, Utility ATV Foot Pegs | $89.95 | |
| Lighting | | | |
| Light Bar | Open Trail, 13.5″ LED Light Bar | $209.95 | http://www.opentrailusa.com/ |