Projects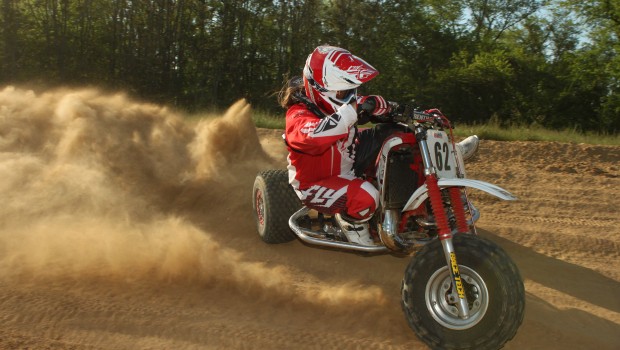 Published on April 28th, 2015 | by Joe
1985 1986 Honda ATC250R Motocross Project, Part 2: WITH VIDEO
Building a Factory Honda Beater.
A while back we turned a stock 1986 Honda ATC250R into a modern-day, vintage motocross dominator. Working with CT Racing, we had proven championship-winning power. Race Tech's trick upgrades for vintage suspension, combined with Lone Star Racing's plus one-inch swingarm, and plus four-inch axle, providing the handling and suspension performance needed to aggressively attack a modern motocross track. Tons of other bolt-ons from companies like OMF, Kenda ASV, Renthal HEL Performance, Maier, Daystar, and Cosmic Quads added the performance and extra attention to detail that made our project trike not just fast, but a well-thought-out and highly effective racer. Prior to shooting the test, still cloaked in stock plastic, test rider, Rob Ray, won the Open Expert class at Trikefest 2012 proving our project was a huge success in the premiere class at the largest annual motocross event for three-wheeler racers. If you haven't seen it yet, we highly encourage you to go watch our previous build to catch up on what went into building this machine thus far.
With the growing popularity of three-wheeler racing, riders are stepping up their game, both in their riding and in their machinery. To keep our project at the forefront of vintage performance, we decided to go back to the future, working with CT Racing and a few other performance companies to transform our machine from a modern-day, vintage motocross dominator, into a machine that would have given Factory Honda a real run for their money back in the day. To build a true pro caliber machine, we thoroughly re-evaluated our ATC looking to further enhance its performance while addressing any remaining weaknesses.
Retransformation
Engine: CT Racing owner, Allen Knowles, a former pro three-wheeler racer himself, felt a well-built 250cc engine produces all the power a trike racer could make use of for motocross. While power valves were big in the late years of the two-stroke quad scene, Allen felt that the harder hitting nature of a non-power valve equipped two-stroke is better suited for breaking the rear end loose for sliding through turns, the only way to go fast on a three-wheeler.
In our first go around, they set our machine up with a CT Racing Midrange pipe and silencer, Moto Tassinari V-Force reed cage, a 38mm Keihin Carburetor from Sudco, and a new, more durable, clutch setup from Hinson Racing. Against their wishes, we had CT Racing set up our motor for pump gas. This costs a good amount of available low-end torque, and prevents them from getting the most out of their port work without making the machine difficult to ride. So we removed the cylinder, head and 38mm Keihin Carburetor, and sent them back to CT Racing.
With more compression on the way and a 30-year-old crank still lurking in our machine, CT Racing had us replace the stock crank with a Hot Rods' crankshaft, designed for the 1987-1989 TRX250R. CT likes the longer rod on this crank for the ATC, used in conjunction with a spacer plate on the bottom of the cylinder. The advantage is a better rod angle and with slower piston speeds at the top and bottom of the stroke, it allows more time to charge the ports, providing more torque and harder hitting throttle response. The Hot Rods' Bottom End Kit we used comes complete with a brand new crankshaft, main bearings/seals, and engine gasket kit in a convenient package.
Next, the cylinder and head received CT's National Porting Package; this time set up for race gas. The package includes porting and decking the cylinder, re-chambering the head, a modified LAPC piston, and top-end gasket kit. CT focuses its porting efforts on gaining midrange power. This results in a power curve that is better from bottom to top, with a majority of its power increase where it's most accessible. The decked cylinder and re-chambered head significantly boost compression, said to result in a substantial boost in low-end power and more power across the RPM range. This setup requires the use of race gas (100 octane minimum), but that's the price you pay for making your Honda bark like a big dog.
Small details make a big difference on a motor build of this caliber. While CT had our 38mm Keihin carburetor this time around, they updated the jetting for new engine updates, and smoothbored it in search of even greater throttle response.
Finally, the ATC's stock ignition system was swapped out for one from a mid 90s CR250 dirt bike. The CR ignition was purchased used off eBay for $65, saving some big money over purchasing new. This setup features a much lighter flywheel and different ignition curve, dramatically enhancing the way the engine builds RPMs.
While porting and aftermarket exhausts were common back in the day, Allen felt that items like the longer rod-equipped crank, modern carburetor, and Moto Tassinari Reed Valve, yield power gains and responsiveness that the factory racers would have loved to have had back in the 1980s.
Suspension: In our first test, Race Tech's suspension was dramatically better than stock and we mean new stock, not worn out and working poorly stock. It gobbled small bumps, and allowed Rob to hammer whoops at a pace that former factory Honda, 200cc pro class racer, Mickey Dunlap, felt rivaled the speed of Honda's 250cc racer and former National Champion, Marty Hart. That's saying a lot.
On less than perfect jump landings, the front forks bottomed notably easier than the rear shock. We already had Race Tech's stiffest .46kg springs installed and its emulator's compression damping set full stiff, so we were still in need stiffer springs.
Progressive Suspension makes fork springs for the ATC250R that are progressively wound. They start off at .54kg and ramps up to .80kg. This allows the forks to provide an initially plush ride that ramps up to resist bottoming on big hits. These springs should provide us with the extra bottoming resistance we need and are known as a great first step in improving the performance of a set of ATC250R forks.
Safety and Control: Renthal bars, grips, and ASV levers upgraded the three decade old controls, leaving the narrow, creaky steel stock footpegs feeling dated and out of place. To remedy this, Daryl Rath, Pro four-wheeler and three-wheeler racer from the 1980s and today, worked with his company, Rath Racing, to develop and release a set of Nerf bars for the ATC250R.
Designed to help ward off your competition's wheels and tires should they get too close, the Rath Racing Nerf bars are constructed of aircraft-grade aluminum. They feature built-in, netted heel guards, which help protect you in the event of losing a peg while preventing dirt build-up. They also feature wide, aggressively toothed, stainless steel footpegs with kick-ups on the ends for more secure footing and improved control.
Their quality looks good; however, it did take a short tag team wrestling match, including a few submission holds, to get them lined up and installed. We will take half of the blame on this one, since we were installing a product jigged to fit one 30-year-old frame on another 30-year-old frame and things can tweak a little over time.
The Test
One run through the gears was all it took to realize the drastic change our 250R's engine had gone through. CT's pump gas engine impressed test rider, Rob Ray, and every other trike racer who threw a leg over the machine thought it had more power than they needed. The difference between CT's pump gas and race gas motor was no less dramatic.
The CT race gas burning, National Motor Package with all the trick add-ons pulls notably harder in the low-end, letting you virtually ignore the clutch ripping out of fourth-gear corners! The lighter CR flywheel makes stalling the engine a little easier if you really dog the motor; no problem for a rider of the caliber this engine is designed for.
While CT's motor work and the long rod, TRX, Hot Rods' crank radically turned up the volume on the engine's power. The CR ignition and lighter flywheel throw the engine's willingness to build RPMs into fast forward; it rips! The already strong midrange hit now comes in sooner and with more ferociousness making the machine an easier and more predictable slider. Strong torque and a readily available blast of horsepower give the machine the ability to clear any jump Rob had the courage to attempt with plenty in reserve. Top-end power is readily available and more abundant. You can scream you way up to the braking point on long straights where your competitors will be forced to shift, or back off sooner, letting you put a few more feet on the competition.
CT's National motor is fast and furious, with the power focused where it always seems readily available. Keep in mind, though, a pro caliber motor requires a higher level of fitness and rider skill to hold onto, especially in a three-wheeler. You can spend less money and brag about having more displacement, but when you start skipping on the smaller details that add up in price, you can easily wind up with a 310 that this 250 will walk all over.
When shooting our last ATC250R project, Rob's foot lost a footpeg in the air, which resulted in him falling off the side of the machine. Trying to hold on, he actually wound up pulling the machine over on top of himself––ouch! Rob felt if he had Rath Racing's Nerf bars installed, that crash wouldn't have taken place. First, the pegs offer far superior traction and comfort compared to stock. Secondly, if Rob had lost a peg, there is still the net there to catch his foot. They are a great add-on for racers, adding protection from other racers' intrusive rear wheels.
We found the nets a little more difficult to get adjusted perfectly than on Rath Racing's quad Nerf bars, due to the ATV Nerf's slightly smaller front section. Rob had never ridden with Nerf bars before on his three or four-wheelers. After a couple of rides, he's sold.
After installing Progressive Suspension's stiffer, progressively wound springs in our R's forks, we were able to back out 3 ½ turns on Race Tech's emulator valve, reducing compression damping. We also had to install a small washer to the rebound damping shim stack to slow down rebound damping. On the track, the first benefit we noticed was less front-end dive under hard braking. The last thing you want to happen in braking bumps is for the rear end to overtake the front. Progressive's stouter springs aid a bit in keeping Race Tech's beautiful behaving, converted stock rear shock, keeping the rear tires in contact with the ground and tracking through braking bumps.
On big hits, the ride was better balanced. Where the forks were the limiting factor on hard landing before, both ends seemed to use the last half of their travel more equally now. The overall action is still pretty plush at both ends, but now Rob has to blow a jump landing badly to find the limits of the travel. Race Tech Emulators, Progressive fork springs, and a little tuning and this 250R's Fork is fully capable of standing up to the pro power the CT motor is putting out.
Conclusion
While we are fans of the modern dirt bike, quad, and three-wheeler conversions. we get a little bummed out when enthusiasts butcher a piece of vintage iron to install an engine, or worse, suspension, out of some modern machine, assuming that it's better, but usually doing it to save a buck. In the end, you devalue your machine. Chances are it won't be setup properly, and in the end, a vintage machine has been taken off the market for future generations to enjoy.
Methodically combining Honda's millions of dollars of R&D with three decades of performance development from a number of companies that are no strangers to winning championships, we wound up with an ATC250R where test rider, Rob Ray, felt that the only thing holding the machine back on the track was him. While there might not be a rider around today as fast as Marty Hart, this CT Racing ATC250R most certainly has power, suspension, and handling that would have made Factory Honda turn red.
Project Part 1 and 2 Complete Parts List and Contacts
Item
Manufacturer
Price
Machine
1986 Honda ATC250R
$1,700
Engine
Crank
Hot Rods 1987-1989 TRX250R Crank/Bottom end Kit
$399.95
Porting
CT National Porting Package, Includes Porting, cylinder decking, head re-chambering, modified LAPC Piston and top-end gasket kit
$495
Exhaust
CT Racing Midrange Pipe and Silencer, with Show Chrome
$462.95
Carburetor
38mm Keihm PWK from Sudco
$265.65
Reed Valve
MotoTaassanari V-Force 3
$148
Clutch Basket
Hinson Racing, Billetproof
$249.99
Clutch Basket Backing Plate
Hinson Racing
$19.99
Clutch Plates & Springs
Hinson Racing, FSC Clutch Plate & Spring Kit
$199.99
Air Filter
Uni, Foam
$30.95
Chassis
Swingarm
Lone Star Racing, +1in Chromoly
$675
Axle Carrier
Lone Star Racing, Billet Bearing Housing
$185
Axle
Lone Star Racing, Axcaliber Racing Axle
$449
Suspension
Forks
Stock with Race Tech Emulators, Oil & Dust seals, inner & Outer Bushings, Oil and Labor
$370.89
Fork Springs
Progressive Springs
$92.95
Shock
Stock with Race Tech Gold Valve, spring, Oil &Dust Seal, Oil & Labor
$288.23
Fork Boots
Daystar, 58 Series
$20.00
Controls
Nerf Bars/Foot Pegs
Rath Racing Nerf Bars
$429.95
Handlebars
Renthal, 7/8 inch Desert Ventage Bend
$74.95
Grips
Renthal ATV Grips
$12.95
Front Brake Lever
ASV, F3 Series
$75
Front Brake Lever Dust Cover
ASV, F3 Series
$10.00
Clutch Lever
ASV, F3 Pro Model Clutch Lever Assembly
$115.00
Tires and Wheels
Front Tire
Kenda, Front Max 23×8-11
$65 Average
Rear Tires
Kenda, Scorpion 18×9.5-8
$46.99 Average
Front Wheel
Stock, with gold finish stripped
Rear Wheels
OMF, 8 INCH Billet Center Wheels with Superlite Drain Hole Beadlocks and Reinforcing Rings
$219.95 Each
Drive
Chain
Renthal, R3-2 520 O-Ring Chain
$94.95
Front Sprocket
Renchal, Chainwheel 14 Tooth
$25.95
Rear Sprocket
Renthal, Ultralight Aluminum Chainwheel 36 Tooth
$69.95
Brakes
Front Brake Line
Hel USA
$79.00
Rear Brake Line
Hel USA
$49.00
Body
Front Fender
Maier MFG, White
$68.54
Rear Fender
Maier MFG, White
$249.34
Shrouds
Maier MFG, White
$83.23
Front Number Plate
Maier MFG, White 7×10
$8.52
Replacement Parts
Head Tube Bearings
All Balls Racing
$40.69
Fork Tubes
New Old Stock from Ebay
$200
Contacts
http://ctracing.com/
http://www.lasleeve.com/
http://www.sudco.com/
http://mototassinari.com/
http://www.unifilter.com/
http://racetech.com/
http://daystarmx.com/
http://renthal.com/
http://asvinventions.com/
http://kendausa.com/
http://omfperformance.com/
http://www.helusa.com/
http://www.maier-mfg.com/
http://cosmicquads.com/