Projects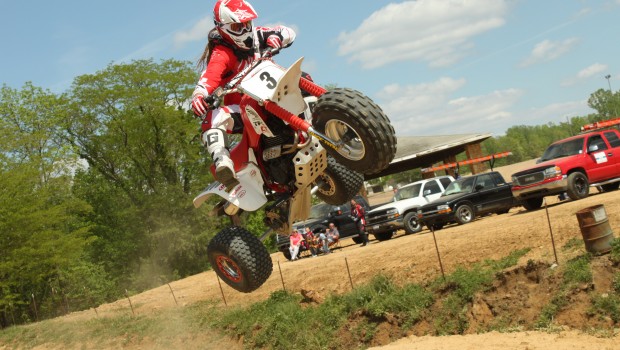 Published on October 11th, 2013 | by Joe
0
1985-1986 Honda ATC350X Vintage Motocross Project
From rust to glory, we turn an aging Honda ATC350X into a vintage legal racer.
With a modern day test of the 1985-1986 Honda ATC350X in the books, we know that the mighty old thumper is a serious sport machine for the trail, with a four-stroke engine that was high-performance for its time. While the 350X wasn't designed and built for the track, there were those who chose to race the X at a time when racing four-strokes was cool, or at least different from the norm.
Annual events like Trikefest in Laurel, Indiana, and the Imperial Invasion held in the Imperial sand dunes have helped the three-wheeled community stay alive. Thanks to race clubs like the Ohio Trike Crew, New York Trike Racing Outlaws, and CALVMX there are now motocross and flat tracks scattered from coast to coast that allow vintage and modern three-wheeler racing. An ATV Action article published in 1985, featuring a CT Racing, National Caliber ATC250R, inspired us to see how well we could make the 350X perform for vintage motocross racing. This build also serves as a buyer's guide for any 350X owner looking to restore or upgrade their machine for the track, trail, or anywhere in-between.
Chassis
Beginning with a full tear-down, our machine's rebirth started with the chassis. We sent our frame to TPC Trikes where they sandblasted it, repaired a couple of small cracks, touched up some factory welds, and installed one of their extensive 19 piece gusset kits. TPC's gusset kits were developed over a decade of racing the 350X and were designed to enhance strength, while reducing frame flex for improved handling.
After receiving our frame back in the mail, we inspected it and found TPC's welds pretty clean and consistent. After having it powder-coated factory Honda red by Killer Koatings in Independence, KY, everything bolted right up to the frame, with the exception of the stock rear brake master cylinder. We believe TPC installed a left side gusset on the right side of the frame. We had to cut a small channel in the gusset to allow the master cylinder to clear, but no big drama. All Balls, head tube, swing arm, and axle carrier bearings replaced the stock bearings providing a tight, wobble-free chassis.
At the end of our freshly powder-coated stock swing arm, we installed a Dura Blue Heavy Duty +4 inch, adjustable width axle. The extra width is essential for motocross as it increases stability while reducing traction for easier sliding. The Heavy Duty axle is claimed to be twice as strong as stock and is covered by a six-month warranty. We would have normally chosen their Eliminator Axle for motocross racing, due to even greater strength and a lifetime warranty; however, it isn't available for the X. A pair of Dura Blue's standard width, rear Racing Hubs eliminates the wobbly, worn out stock hubs. The Dura Blue hubs are light and strong, thanks to their aluminum construction with steel inserts.
Suspension
We wanted to significantly improve the 350X's suspension while keeping it truly vintage, so we turned to vintage dirt bike and ATV suspension experts at Race Tech. Specializing in custom applications, Race Tech didn't back down from the challenge of setting up suspension for a machine that they had never done before. Race Tech drilled out the fork's lower compression holes for unrestricted oil flow and installed their Gold Valve Emulator. The Emulator mimics the function of a cartridge fork, separating out the compression and rebound circuits for individual tunability. The Emulator valve controls compression damping, using various springs and variable spring preload to control how much the valve opens under a given amount of oil pressure. Rebound damping is still handled by the original rebound circuit found in the damping rod. Changes in damping are achieved by using different weight fork oil. To finish off the fork, the stock fork springs were switched out for stiffer .52 kg springs. After an initial break in ride, we switched over to 20-weight fork oil set at 5.5 inches from the top of the tube, to slow rebound damping a bit.
Race Tech's Todd Davis tells us that the stock rear shock's short stroke, high leverage ratio, and linkageless design require stiffer settings in the initial part of the travel order to work best. Race Tech replaced the stock piston with its high-flow Gold Valve. The Gold Valve allows unrestricted oil flow at the piston. The high-flow piston is said to prevent mid-stroke harshness and puts all of the damping work on Race Tech's custom-built shim stack. Finishing off the rear shock conversion, the under sprung stock spring was replaced with a 16.0 kg spring. Both ends received fresh fluid, and any worn items were replaced during reassembly.
To maximize the reliability of our surgically enhanced forks, we installed a set of Daystar fork boots. They keep grime and debris from getting to the fork's shafts and seals. The boots are constructed of a poly-vinyl material that is claimed to hold up better against the elements than traditional rubber. Daystar has lots of colors to choose from to customize the look of your machine as well.
Engine
Whether your motor is built or stock, the 350X's stock head pipe restricts power. Harkabusic Racing offers a hybrid 400EX head pipe modified to fit the 350X. Providing more efficient exhaust flow, the design of the EX head pipe features larger diameter bends than the X's header in addition to a different collector design. Harkabusic's headers go through an extensive cleaning, carbon removal, polishing, and deburring process, yielding a head pipe that looks better than new. We paired our shiny, new Harkabusic Racing head pipe with the Supertrapp silencer that came on our 350X, complete with a fresh coat of paint.
CT Racing has been building winning, reliable motors since the days when the ATV Nationals were ruled by three-wheelers, so they know what type of power works best for these unique machines. CT's 350X National Motor Package is designed to build upon the stock engine's fun and easy-to-ride low-end and midrange power, providing more horsepower and torque across a broader RPM range.
Installing a monster big-bore kit may increase horsepower, but it does so while sacrificing some snap and willingness to rev. CT bored our cylinder and replaced the stock 81 mm 8.5:1 compression piston with a 82mm 12:1 compression LAPC piston with custom ground valve pockets. Keeping the bore size down keeps piston weight down allowing for faster revving, while the increase in compression will help increase horsepower across the RPM range.
CT then turned their attention to the head, starting off by porting the intake and exhaust ports. Their five-angle valve job provides optimum flow of incoming and outgoing air and fuel, while providing better seal when the valves are closed. CT sent our cam to Megacycle, where it was hard-faced and re-ground using Megacycle's 162-30 grind. Megacycle designed this cam for fast riders, with a focus on increasing midrange and top-end power.
Hard-facing is the process of welding nickel or cobalt to the surface of the cam lobes, providing the needed additional stock from which to grind a high-lift profile. They also claim that it provides the most durable cam lobe surface. Megacycle says its 162-30 grind must be used with stiffer R/D valve springs. CT also had Megacycle hard-faced our rockers, which Megacycle recommends and CT says is mandatory any time you use stiffer valve springs on an air-cooled Honda.
Afraid to put our newly-found power through a 28-year-old clutch, we shopped on eBay and were fortunate enough to find a new, old school complete clutch assembly. We also picked up a set of NOS center engine cases to replace our stock ones which had been previously damaged and poorly repaired.
To match the efficiency of the intake with our CT motor, we acquired a used Honda 400X/400EX carburetor from Power Sports Nation, a serious salvage operation that can outfit you with good used parts for far less money than new. The 38mm carburetor is not only larger than the stock 32mm unit, it also has an accelerator pump to enhance throttle response at low RPMs. To help our motor last another 30 years, we used the UNI foam air filter that came in our X when we purchased it. UNI offers good flow and exceptional protection against dust and fine debris. We also use a fresh First Line oil filter, delivered by Rocky Mountain ATV, with each oil change. The air box lid and intake snorkel were left off providing maximum flow to the air box.
Stock gearing on the 350X is 13/40. To complement our increased horsepower and four-inch shorter tires, we needed to gear up significantly. Sprocket Specialists is one of the few companies producing sprockets for the X, and they offer more gearing options than anyone, as they will custom cut sprockets to fit your needs. We went with a 13-tooth front and 34-tooth aluminum rear sprocket, providing us with gearing just a touch taller than stock. A Renthal R3-2, 520 o-ring chain provides great strength and low maintenance.
Brakes
We wanted our X's braking performance as crisp as its engine. We replaced the stock brake pads with Tusk brake pads, available through Rocky Mountain ATV with rapid delivery and affordable pricing.
The old stock rubber brake lines were replaced with HEL Performance brake lines, which are constructed of stainless steel braided Teflon hoses. The lines feature a non-abrasive PVC outer coating, along with stainless steel fittings, which are permanently wedged together. The front line features a clear plastic guard which runs from the upper part of the number plate, down to the lower fork leg, keeping the line from bending and hitting the front tire. The steel braided lines enhance brake power and feel, while various line and fitment color options let you customize the look of your machine.
Tires and Wheels
Kenda's Front Max and Scorpion tires have been around since the three-wheeler days. The 23.5×8-11 front is an uncommon size due to the 11-inch wheel diameter. The Max features rows of long, perfectly vertical knobs to provide good directional control. The knobs are tall for good hookup on soft tracks, while the top of each lug features vertical grooves, aiding traction on hard track surfaces.
These tires feature a harder rubber compound than modern motocross tires, which will also help them slide easier and last longer. We went with 18×9.5-8s for a motocross-appropriate height and the narrowest possible width, again looking to make breaking the back end loose as easy as possible in a tire that would provide forward traction in loam or sand.
OMF's 8-inch billet center wheels, with super light drain hole bead locks and reinforcing rings, provide strength, security, and sex appeal. They start life as a strong DWT 190 wheel. They're then machined to accept OMF's bolt-on billet centers. Being able to swap out the billet centers allows you to change the wheel's bolt pattern, offset, style, and color. The bead locks add strength, and are machined to be light and to allow water to drain from behind them. Most importantly, bead locks keep your tires from popping off the bead when running lower tire pressure, or in case you get a flat. The reinforcing rings add strength to the inner lip of the wheels and are machined to save weight. Lets face it–– looks matter, and these wheels scream that this isn't your average three-wheeler!
Protection
PRM has a growing line of aluminum hard parts for the 350X and other popular three-wheeler models. Their chassis skid plate features drain holes that allow water and mud to wash away. You can even change your oil with it on in a pinch.
PRM's Z-Plate swing arm skid plate offers lots of coverage and is designed to provide maximum ground clearance. PRM says that welding softens and weakens aluminum, so as much of the skid plate is formed into shape as possible, minimizing the amount of welding needed. The 350X swing arm skid plate features a built-in chain slider; both plates bolted up with OE quality fit and better than OE quality construction.
While PRM's Standard grab bar features the smaller narrow design typically used in motocross. we decided to run their Desert grab bar. The Desert grab bar's wider design makes keeping the machine balanced easier when your lifting the rear end of the machine. Grab bar fitment was also spot on.
Full Body Makeover
Maier Manufacturing offers plastic for many vintage applications. Their body parts are thermoformed from TPO polypropylene with a high-gloss cap sheet. We acquired a set of white plastic including front and rear fenders; Super Shrouds, which are larger than the stock tank shrouds; and a front number plate, which we trimmed to fit. Maier's shine and fender fitment on the 350X is on par with factory plastic. It's claimed to hold up well to the elements and is proving to be pretty chemical and scratch resistant.
With a nasty dent in our stock metal tank, we were relieved to find that Clarke has plastic tanks available for the X, as well as many other popular ATC models. The X's tank is available in red, white, and black and comes with a new gas cap. The tank slid into place on the frame pretty easily; however, the Maier Super Shrouds took some rounding out of the mounting holes to get them to bolt up to the tank. We hear this is only a problem when you mix the Super Shroud with the Clarke tank, and honestly, we only needed to trim the holes a tiny amount. The Clarke tank is lighter than the stock metal tank, and plastic is easier on the knees than metal.
Controls
Our 350X received a much more modern-feeling cockpit, starting with a major seat makeover by Cosmic Quads. They removed our old cover and worn out foam and replaced it with a new Hi-Flite Desert foam, wrapped in a custom seat cover Cosmic Quads created for us. The foam makes the transition from sitting to standing easier, while providing more room to hang off the side for corners. The seat cover installation was flawless.
Renthal, 7/8-inch Vintage Desert handlebars, provide the wide clamping area and tall height needed for the old ATC. They are a little wide, though, for riders with a shorter reach. Renthal's ATV Grips feature a rough, tiny bullet head-like surface that offers great traction, wet or dry, and remains very comfortable no matter how long you ride.
HRE's 2-inch wide foot pegs are constructed of tig-welded chromoly. Compared to our narrow, dull, and frighteningly creaky stock pegs, the HREs offer far greater comfort and way more traction. Designed for muddy cross-country racing, the teeth are a little scary looking. Our pegs came in wet black powder-coated finish, but you can have them powder-coated other colors as well.
Finishing off our build is a pair of ASV F3, " unbreakable" levers. The levers feature ASV's double-hinged design, allowing the levers to bend backwards in the event of a rollover, which is pretty much a given on a three-wheeler. The F3 levers are constructed of forged 6061 aluminum with stainless steel fasteners. They are completely rebuildable and are covered by a 3-year warranty.
We had to modify our front brake lever a little to work on the old 350X.The part of the brake lever that depresses the plunder on the front brake master cylinder is a little long, so we had to do some custom Dremeling to make it work. Had we switched out to a 450R or 400X master cylinder, it would have installed with no issue, We then dressed up the lever with ASV's dust cover.
The F3 Pro Model clutch assembly features a trick, CNC, quick adjustment setup, double bearings between the perch and the lever, nylon rotator sleeve and built-on dust cover. Both levers feature adjustable reach and provide a modern feel. They are available in various anodized colors and add trick finishing touch to your controls.
The Review
Everything about riding the 350X turned out better than expected, starting off with the fact that the machine is a real head turner. While it's not quite a museum piece or full-on show machine, its looks scream serious competition machine.
Sit on our project 350X and close your eyes; you'll forget that you are on a machine from 1985. The revamped Cosmic Quads' seat was huge in modernizing the feeling of the machine. All of the other contact points yielded enhanced comfort and controls thanks to the HRE pegs, Renthal products, and ASV levers.
CT doubled down on the stock Honda's fun-to-ride bottom end and midrange power. There is enhanced power and torque right off idle that will pull you out of corners, no matter how badly you blow gear selection. The bolstered midrange gives you the needed thrust for pulling hole shots. The CT motor will smoke a stocker exiting corners, making attacking jumps right out of turns much easier. The combination of the CT head work, Megacycle cam, and freer flowing Harkabusic exhaust gives the X a substantial boost in top end power While the guy next to you is upshifting to attack the last 20 yards of a long straight, you can just hold the CT motor on and rev your way into the corner. While the top-end power is much more abundant, this is still a midrange motor, so we never found ourselves just screaming, continuously revving its guts out. We suspect that this motor will last a good long time as long as the air filter and oil are kept clean.
In the lighter three-wheeler, this motor reminds us of a well-built 400EX with a 416 kit. It revs as fast, if not faster, than stock with more power throughout the RPM range. Breaking it loose for slides and attacking big jumps comes much more effortlessly with this motor. It's not only notably faster than stock; it's easier and more fun to ride.
If it weren't for the chassis and suspension upgrades, the increase in horsepower would make this a scary machine to ride fast on a motocross track. With the extra stability and reduced traction provided by the wider Dura Blue axle, we could attack corners harder from entrance to exit. We were initially concerned about not being able to run a Dura Blue Eliminator axle on the X, but after Rob Ray hitting a number of big jumps, we are pretty convinced that the Heavy Duty is strong enough to go out and have some fun on the track.
When you exit corners with the throttle wide open, the frame flex and twisting that was evident when stock, has been notably reduced, thanks to TPC's gusset kit. Less frame flex provides a better feeling of how the machine is reacting to the track, better perception of how the suspension is behaving, and has a small impact on enhancing control when you are really pushing it.
The dated Kenda tires worked very well in a variety of track conditions. The Front Max provided precise steering on any type of track surface from chunky to cake-like, to hard pack. For motocross or trail riding, it's a one-tire-fits-all solution. Kenda's Scorpion rear tires provide enough forward bite in everything except mud, combined with the easy-to-slide characteristics needed to go fast on a three-wheeler. On loamy tracks, they work better just inside or outside the race line where the track isn't packed down. This gives you more opportunity when you're working your way through the pack. There may be better back tires for rock-hard tracks or muddy trails; however, for most motocross tracks, the Scorpions are a great tire choice for trikes. In spite of their bead locks and reinforcing rings, OMF did a great job of keeping our rear wheels light adding minimally to rotating mass. Their only drawback is that they look so awesome that we don't want to scuff them.
Thanks to the revised Race Tech suspension, you can push the X a lot harder in the rough stuff. The rear end performs notably better on bumps of all sizes. It's more responsive to small impacts, which lets the rear end hook up well on chunky, disked track surfaces. The forks continue to enjoy good, small bump absorption as well. On jump landings, the limitations of the stock suspension have been greatly improved upon. The machine sticks landings on the down side and it takes a considerably bigger hit to bottom out either end. In rollers and widely-spaced whoop sections, the suspension is pretty phenomenal. The forks respond better to impacts, which makes their flexing less pronounced. The rear end features a lively fluid movement throughout the travel, which keeps the rear end tracking and the wheels driving. Overall, suspension balance is biased just a bit towards the front, which helps keep the rear end more planted in braking bumps, where a three-wheeler can easily get in trouble. We have noticed a very slight tendency for the rear end to pack a little on very closely-spaced, "stadium style" whoops, but we think we can work that out with a little more spring preload to firm up the initial travel. We will update you in the future, in a stand-alone review of Race Tech suspension for the Honda ATC350X and ATC250R.
Our machine's brakes enjoy far better feel and power thanks to the HEL brake lines and Tusk brake pads. The spongy feel of our machine's dated brakes are long gone. They now feel as crisp as brakes on the 2013 Raptor 700 currently sitting next to it in the garage.
Following our first couple test rides, we were thrilled with the protection provided to our renewed chassis and swing arm by PRM's skid plates. Our rear skid plate took some hard hits from rock-hard clay chunks throughout our testing keeping our brakes and swing arm well protected, with no more than minor scratches to show for it. The cross-country style grab bar was a big help balancing the machine when lifting the rear of the machine. PRM's products are well built and add to the looks of our vintage machine.
Final Thoughts
You have to acquire and restore a vintage machine to understand how cool it is to complete a project like this. It's affordable to get into, and you can complete a restoration and build up over the course of a couple years. We've found that the discontinued parts are out there if you look a little. Most replacement and all of the performance parts you'll need to build a vintage racer are still being manufactured today.
As a modern day vintage racer, you still have to want to race a four-stroke to be different as two-strokes continue to dominate. We think in the hands of a good rider on the right track, our project ATC350X may have what it takes to give the two-strokes fits. As a vintage four-stroke, three-wheeler. it's the best you can get, made a whole lot better!
Featured Riding Gear
Fly Racing: Kinetic Pants, Kinetic Jersey, Kinetic Gloves, Three.4 Helmet
Gaerne: SX-1 Boots
More good sources for three-wheeler information and community.
wwww.3wheelerworld.com
www.3wheeler.org
Specifications
| | | |
| --- | --- | --- |
| Item | Manufactuter | Price |
| Machine | 1985 Honda ATC350X | $1,200 |
| Engine | | |
| Head Pipe | Harkabusic 400EX Conversion | $225 |
| Silencer | Supertrapp Slip-on | $359, came on machine |
| Porting | CT Racing | $350 |
| Piston | 82mm 12:1 Compression LAPC Piston with valve custom cut valve pockets | $170 |
| Valves | Stock with CT 5 Angle Valve Job | $192 |
| Valve Springs | R/D Valve Springs with Chromoly Retainers | $135 |
| Rockers | Stock Hardfaced by Megacycle | $136 |
| Cam | Megacycle 162-30 Midrange | $144 with core |
| Carburetor | Stock 400EX Rejetted | $125 |
| Air Filter | Uini Foam Filter | $27.95, Came on Machine |
| Chassis | | |
| Frame | Stock 350X with TPC Gusset Kit Installed | $250 |
| Axle | DuraBlue Heavy Duty +4 | $395.65 |
| Wheel Hubs | DuraBlue | $192.45 |
| Suspension | | |
| Fork | Stock with Race Tech Emulators, Springs, Oil & Dust Seal, Inner & Outer Bushings, Oil and Labor | $514.90 |
| Rear Shock | Stock with Race Tech Gold Valve, Spring, Oil & Dust Seal Oil & Labor | $399.99 |
| Fork Boots | Daystar 58 Series | $20.00 |
| Controls | | |
| Handlebars | Renthal 7/8 Inch Desert Vintage Bend | $74.95 |
| Grips | Renthal ATV Grips | $12.95 |
| Brake Lever | ASV F3 Series front Brake Lever | $75 |
| Front Brake Lever Dust Cover | ASV | $10.00 |
| Clutch Lever | ASV F3 Pro Model Clutch Lever Assembly | $115.00 |
| Tires and Wheels | | |
| Front Tire | Kenda Front Max 23.5×8-11 | $65 Average |
| Rear Tires | Kenda Scorpion 18×9.5-8 | $46.99 Average |
| Front Wheel | Stock | |
| Rear Wheels | OMF 8 Inch Billit Center Wheel with Superlite Drain Hole Beadlocks and reinforcing rings | $219.95 Each |
| Drive | | |
| Chain | Renthal R3-2 O-Ring Chain | $94.95 |
| Front Sprocket | Sprocket Specialists, 13 tooth | $24.99 |
| Rear Sprocket | Sprocket Specialists,34 tooth | $69.99 |
| Brakes | | |
| Front Brake Pads | Tusk | $16.99 |
| Rear Brake Pads | Tusk | $16.99 |
| Front Brake Line | Hel USA | $49.00 |
| Rear Brake Line | Hel USA | $49.00 |
| Protection | | |
| Engine Skid Plate | PRM | $79.95 |
| Swingarm Skid Plate | PRM | $109.95 |
| Grab Bar | PRM Desert Grab Bar | $57.95 |
| Body | | |
| Front Fender | Maier MFG White | $63.62 |
| Rear Fenders | Maier MFG White | $226.04 |
| Shrouds | Maier MFG Super Shrouds White | $51.43 |
| Fuel Tank | Clarke | |
| Front Number Plate | Maier MFG White | $8.52 |
| Seat Foam | Hi-Flite Desert Foam | $85.00 |
| Seat Cover | Cosmic Quads Custom, Installed | $145.00 |
| Replacement Parts | | |
| Lower Eneine Cases | Honda Stock Takeoff | $150 |
| Clutch | Complete New Old School Honda Clutch Assembly | $150 |
| Head Tube Bearings | All Balls Racing, Steering Bearing Kit | $40.69 |
| Swingarm Bearings | All Balls Racing | $52.94 |
| Carrier Bearings | All Balls Racing | $35.54 |
| | | |