Sport Utility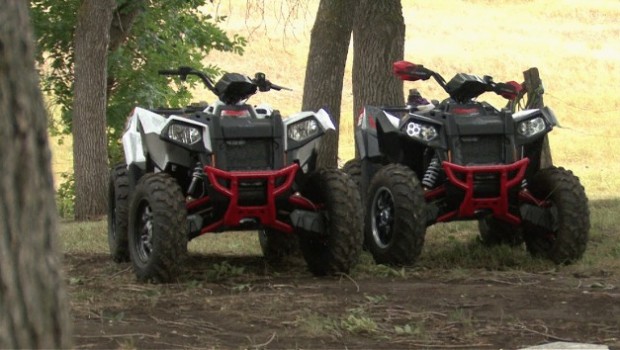 Published on October 9th, 2012 | by Joe
0
2013 Polaris Scrambler XP 850 First Test
The Polaris Scrambler dates back to 1985 when it was introduced in the form of a 250cc, two-stroke powered three-wheeler. The original Scrambler had features unique to Polaris and still found on their machines today, such as a fully automatic PVT transmission, lots of suspension travel, and full floorboards.  Impending government restrictions spelled the doom of all three-wheelers, so the Scrambler disappeared from the Polaris lineup for a few years.
In 1995, the Scrambler was resurrected in the shape of a four-wheeler, as the four-wheel-drive, two-stroke powered Scrambler 400. Two years later, Polaris added the four-stroke powered Scrambler 500 to its line. These machines were two of the fastest sport 4×4's you could buy for years. Emissions killed the Scrambler 400 years ago, but the proven and powerful 500 remained in Polaris's lineup throughout 2012.
We are sad to say that a changing market has spelled the end of the venerable Scrambler 500. Today's sport 4×4 enthusiasts are trending toward the biggest and the baddest, rather than the best bang for the buck. While the 500 was once the biggest, that time has passed. Yes, the historic Scrambler 500 has gone away, but 2013 brings about the next generation of Scrambler, the awesome Scrambler XP 850.
What is it
Most company's sport 4×4's are modified versions of one 4×4 utility model. The Sportsman XP 850 is easily one of the best 4×4 utility machines on the market, making it an ideal platform from which to develop the new Scrambler XP. The transformation began with redesigning the machine's bodywork. A new, slightly lower profile fender design is reminiscent of the Outlaw 525 IRS. The Sportsman's racks were micro-sized for the Scrambler. Its mini racks can hold up to 50 pounds rear and 25 pounds front, allowing some cargo space for daylong trail riders and campers. The 1.25in. hitch receiver can tow an additional 1500 pounds if needed.
Part of the new aggressive styling is a heavy-duty front bumper, color matched to the front and rear a-arms. Developed for its sport-specific intentions, the Scrambler's suspension settings are unique to the machine.  A new exhaust was designed for the Scrambler to enhance performance, while providing a sportier look and sound. Differences in power must come in delivery, as its peak power output is identical to the Sportsman's at 77hp.
Two Models
In addition to the standard model, Polaris offers the Scrambler XP 850 EPS Limited Edition model, which comes with automotive-style stealth black painted bodywork.  The most important difference between the base and LE model is the addition of electric power steering. Fox Podium X shocks are also a significant step up for the LE, featuring piggyback nitrogen reservoirs and compression damping adjustment.
The base model's standard analog and digital instrument display are traded in for a fully digital one on the LE. Both machines use Carlisle 489 II tires. The LE model uses matt black aluminum mag wheels with lip and center accents. We're a little disappointed that the base model comes with cheapo stamped steel wheels, although it is $2,500 less expensive than the LE model.  Dual 50-watt headlights, with high and low beams, light up the trail on both Scramblers, although the LE model gets upgraded to LED lights.

Related Content
VIDEO, 2009 Polaris Scrambler XP 850 EPS Test
VIDEO, 2009 Polaris Scrambler 500 Test
2013 Polaris Scrambler XP 850