First Looks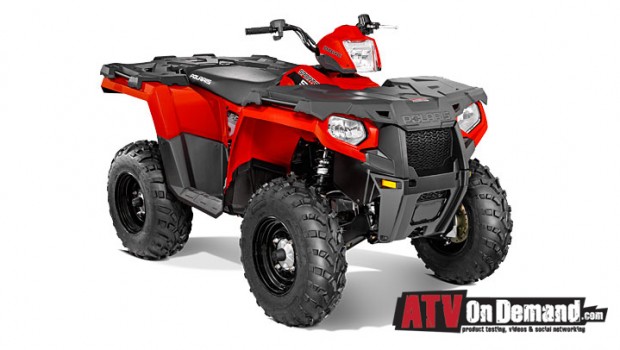 Published on July 30th, 2013 | by Joe
0
2014 Polaris Sportsman, Ranger and RZR Models. First Look
New 2014 Ranger Crew 900
Polaris RANGER® utility vehicles are the Hardest Working, Smoothest Riding Side-by-Sides available in full-size, midsize and multipassenger models. For Model Year 2013, Polaris defined an all new class of Hardest Working, Smoothest Riding with the full size RANGER XP® 900. For 2014, all the benefits of the RANGER XP 900 now can be found on the all-new, multi-passenger RANGER CREW® 900.
The RANGER CREW 900 offers hardest working features such as a 60 horsepower ProStar™ 900 engine, ability to tow a ton, new high capacity battery and stator, and integrated Lock & Ride™ PRO-FIT™ cab accessories. To complement the hardest working features, the RANGER CREW 900 features a restyled, all-new cab and a more rigid chassis for a new level of smoothest riding in a multi-passenger vehicle. The completely redesigned cockpit fits five people more comfortably and offers class-leading ergonomics, including a new center console with added storage and cup holders. For an incredibly smooth ride and optimal handling that complements the longer wheelbase, the vehicle features an all-new chassis that is more rigid, with increased torsional stiffness. This delivers a smoother ride, low vibration and the ability to tackle anything that stands in the vehicle's way. The RANGER CREW 900 has easy steering with or without Electronic Power Steering (EPS), and features 5 in/12.7 cm more wheelbase, 1 in/2.5 cm more rear suspension travel and 11.3 in/28.7 cm of ground clearance.
New 2014 Ranger 570 Models
The midsize RANGER and midsize multi-passenger lines also have new members for 2014 with the introduction of the RANGER 570 EFI and RANGER CREW 570 EFI. These vehicles have all of the hardest working, smoothest riding features found on the previous 500cc versions: On-Demand True All-Wheel Drive with VersaTrac, Independent Rear Suspension, high ground clearance and the longest suspension travel in their classes with the addition of a liquid-cooled, single-cylinder 570 engine delivering smooth acceleration and 40 horsepower, giving the vehicles 25 percent more power than previous models.
Other 2014 Ranger Models
Also new for 2014, the midsize and midsize multi-passenger limited edition models will feature EPS for the first time. They include the RANGER 800 EPS Midsize, RANGER 570 EPS and RANGER CREW 570 EPS models. Other limited edition models offered for 2014 include the RANGER XP 900 EPS, RANGER 800 EPS and RANGER CREW 900 EPS.