Projects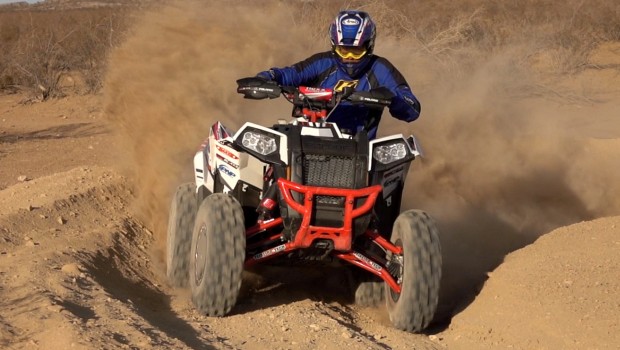 Published on January 4th, 2017 | by Joe
Polaris Scrambler XP 1000 XC Racer Project: WITH VIDEO
Teixeira Tech refines Polaris' one liter beast for cross country racing!
Since debuting in 2014, we've remained impressed with the smooth yet excessive power, good quality suspension, and refined ergonomics of the Polaris Scrambler XP 1000. As all out four-wheel-drive ATV performance goes, not much comes close. Located in northern California, Teixeira Tech designs and builds chassis parts for Team UXC/Factory Polaris who race Scrambler 1000s, 850s, and RZR SxS in the GNCC and the Best in the Desert series. Playing a a major role in improving the durability and handling of Factory Polaris machines, when Teixeira Tech owner, Ed Teixeira, asked us if we wanted to test out a cross-country ready Scrambler 1000 he built with a number of his personal long-time sponsors, we didn't hesitate. We jumped on a plane and flew to California to meet up with CT Racing owner and former Pro ATV racer, Allen Knowles, at El Mirage for a day of thrashing on Teixeira's Scrambler XP. It's worth noting that many of the products used in this project will fit both the Scrambler and Sportsman 1000 and 850 models.
Chassis and Suspension
With the Scrambler already possessing ample power, this build was focused first on improving handling and durability. Teixeira Tech learned from Team UXC that the stock Scrambler's frame needs some reinforcement for racing applications. Dirt Works Motorsports, who welds gusset kits on Team UXC's machines, also makes a bolt-on gusset kit that adds strength and rigidity to the areas where the Scrambler needs it most. The bolt-on kit reinforces the upper and lower, front and rear A-arm mounts, in addition to the front and rear upper shock mounts.
The spines on the stock stem that work with the power steering unit develop play. Teixeira Tech's steering stem's splines are said to offer over three times the surface contact with the splines on the power steering unit reducing wear while their chromoly material adds strength.
Teixeira Tech builds its chassis parts out of TIG-welded 4130 chromoly. Their stock length, WX, or WORCS Series A-arms featured on this machine are the same arms Team UXC uses for Desert racing, and most of Teixeira's customers use for cross-country racing. Team UXC uses Teixeira's -1" XC arms for GNCC, but that setup costs nearly $1,000 more due to having to purchase shorter axles. The Xtreme Ground Clearance lower arm's reverse gull-wing style design maximizes ground clearance over a wider area. The lower front arms add two degrees of caster, reducing steering sensitivity and improving stability at high speeds.
The lower rear arms come complete with new billet aluminum sway bar linkages that connect to the lower arms with heim joints replacing the more spindly stock hardware. Teixeira installed a set of their chromoly tie-rods up front for strength and all of Teixeira Tech's A-Arms use durable, premium quality, Italian made Frap ball joints.
The Teixeira Arms were paired up with Elka Suspension's top of the line Stage 5 shocks. They offer the widest number of adjustments in Elka's line including spring preload, high and low-speed compression, and rebound damping adjustments. Compared to their older style shocks from a few years ago, Elka's latest shocks feature an updated compression cartridge providing better flow. All of Elka's shocks are said to be built to order. This machine's shocks were setup for a 180-pound, pro level, cross-country racer.
Maxxis' versatile Bighorn 2.0 tires are some of the lightest and best performing, multi condition trail tires on the market, making them ideal for ATVs, where unsprung weight really affects handling and performance. Going from a 26" to a 25" tire lowers the quad's center of gravity for better handling.
The tires were mounted on a set of tough, trick looking, single beadlock, Keizer wheels, which are available in different sizes, configurations, and bolt patterns. The wheels feature 3 piece, billet centers with a machined black finish providing a striking look. The wheels were finished off with a set of Keizer's accessory aluminum mud caps. 12" wheels were used instead of the stock 14" wheel size, allowing for a taller tire sidewall to improve ride quality. This requires machining a small amount of material off the stock brake calipers.
Tire Blocks' run flat system was used on this machine. They allow you to run lower tire pressure, or no pressure at all, in case of a flat and are available in two different compound foam blocks, allowing you to achieve a firmer, or plusher, ride with more or less tire bounce. You can even alternate between the two to achieve a ride somewhere in the middle. One of the benefits of Tire Blocks over Tire Balls is that Tire Blocks cannot puncture and go flat. At higher speeds if you pop a Tire Ball, it throws your tire out of balance,creating an imbalance that becomes more pronounced the faster you ride, holding you back.
Admittedly, at 210 pounds, Allen is a little heavier than the suspension's intended rider of 180 pounds and the desert isn't the environment this machine was set up for, but as highly experience professionals, these matters won't stop us from putting this machine's performance in perspective. This Scrambler still possesses the highly-maneuverable, stable feeling we liked on the stock machine. The combination of the Elka shocks and slightly shorter 25" Bighorn 2.0s definitely added to the machine's flat cornering manners, letting you attack tight switchback sections with more aggression and confidence. With the Teixeira A-Arms' added caster, Allen had no complaints about the power steering feeling effort or steering sensitivity at high speeds, regardless of how rough or smooth the trail was. Steering is still fast and light, but not quite as touchy as stock. The wider area of ground clearance the arms provide is helpful in rocky conditions and Team UXC's Michael Swift tells us that the Teixeira Tech A-Arms are"100% stronger."
Elka's Stage 5 shocks delivered what we'd want in a cross-country race shock. They are plush over impacts with smaller rocks in the trail, also making them great performers over exposed roots back East. Touching down from a few feet of air, the landing is smooth and bottomless. We only managed to find the shocks' limits a few times really pushing it hard in deep, high-speed whoops, and attacking a g-out with a rather large bump at the bottom. Compared to the Scrambler's shocks, we think the Elka's are pretty comparable on big hits and more forgiving on smaller bumps, in spite of running a slightly shorter tire. As we mentioned before, body-roll is well controlled and their high-level of adjustability will let you maximize the shocks' performance for different trail conditions.
Maxxis Bighorn 2.0 tires work very well in the sometimes muddy, sometimes rock-hard trails found back East. They also hold their own in the sandy, rocky conditions found out West. With tire blocks, we were able to run a lower air pressure, adding to the ride quality over small bumps, while reducing your fear of getting a flat.
Horsepower
With so much focusing on handling and durability, Ed Teixeira felt the Scrambler could handle a little more power, so an HMF Titan-Quiet exhaust was installed. The Quiet system is claimed to only add 1-2dB of sound. For those who like to be heard, HMF also offers the Titan-XL, or extra loud version, claimed to produce 4-6dB more than stock. Both are available as a full system only. The Titan Series exhaust uses stainless steel construction throughout with the exception of its billet aluminum end cap. It's available in a brushed stainless steel finish or can be blacked out like ours, with a matt black ceramic coating, formulated to withstand extreme temperatures. HMF's exhaust converts the exhaust from a dual silencer to a two-into-one system, reducing cost and cutting the exhaust's weight from just over 24lbs down to around 12.5 pounds, a healthy weight savings.
A foam air-filter from Uni flows better than the stock paper filter adding horsepower while still filtering small dust particles better than cotton style filters, making a Uni perfect for dusty GNCC conditions. It can be cleaned thoroughly and will work as good as new for far longer than a paper filter, which adds up in price.
The Titan exhaust demands the use of an aftermarket fuel module like HMF's Fuel Optimizer to match fuel requirements with the increased airflow. HMF's Optimizer provides convenient on-board, push button tuning that lets you independently tune from 0-1/4 throttle, 1/4-3/4 throttle, and 3/4- full throttle; it's similar to switching the pilot, needle, and main jet on a carburetor. You can also tune the rate at which one fuel setting transfers onto the next, similar to using different taper needles in a carburetor. There is also a setting that lets you fine-tune the amount of fuel added when you crack the throttle right off idle, helping tune out off-idle hesitation. If this all sounds intimidating, don't let it. HMF provides easy to understand instructions, as well as online video instructions on tuning .The Optimizer's only drawback is that its range of adjustability is more limited than that of a fuel manager that's tuned with a laptop computer. If you are looking to build a high-compression, big-cam, ported engine, you'll need to send the controller to Dobeck and have the controller's internal baseline settings increased. For bolt-on mods, it seemed good to go. With the Titan exhaust and Uni filter, the Optimizer's stock map had this Scrambler running flawlessly.
Sound output is what we have come to expect from HMF's Titan-Quiet exhaust, meaner and throatier than stock, but at a very acceptable dB level. Flowing better from the intake to the exhaust, throttle response aided slightly by the 1" shorter Maxxis tires, the HMF exhaust, Fuel Optimizer, provided a small, but notable, boost in performance across the RPM range while retaining its broad, smooth power band. It pulled a little harder off the line and out of corners. The best gains in power came in the midrange, boosting acceleration and responsiveness at slightly higher speeds. This allows the engine to power up hills with even greater ease and lighten the front wheels when needed at warp speed.
Ergonomics
Teixeira Tech's anti-vibe steering stem raised the bar clamps +2" taller and +3/4" forward putting the 15 degree, Quad Racer, low bend, Fasst Company, Flexx Handlebars at a great height for those in the six foot tall range. Teixeira Tech's billet aluminum handlebar clamp features four position adjustment, ¼ or ½" forward or rearward.
We always appreciate Flexx Handlebars on cross-country builds, helping save your upper body from impacts that get past your suspension. They can be tunes to help filter out walloping impacts from bottoming your shocks, or smaller bump impacts that wear on you throughout a long ride by adjusting elastomer preload or switching to firmer or softer elastomers. Swapping out the stock handlebars requires you to relocate the Scrambler's gauges so Teixeira Tech makes a panel that mounts them between the rider and the handlebars. Oury ATV grips are soft and tacky helping you get a grip and damping vibration.
Mud Motorsports builds custom seat covers. The cover on this Scrambler featured non-slip vinyl with cross-stitched sections adding extra grip for muddy races. It looks well-constructed and matches the look of the rest of the machine beautifully.
Odds and Ends
Graphic Worx created a custom graphics kit for this Scrambler that incorporated an aggressive design with the project's sponsors. They are constructed of a heavy vinyl and held up fine to their first hard day's work.
In case you don't own a Scrambler and are considering buying one, the trick bumper, grab bar, and hand guards are all factory goodies.
Conclusion
We were already fans of the Polaris Scrambler, and Teixeira Tech has certainly built on that. If you're looking into going cross-country racing on a 4×4 ATV, this build should yield a pretty competitive machine for a competitive rider. It's tougher, handles better, and pulls harder than stock and stock is no slouch. For the average trail rider, you can pick and choose the items that will serve your needs best. We were happy with the performance of all the products involved.
Specifications
| | | |
| --- | --- | --- |
| Machine | 2016 Polaris Scrambler XP 1000 | |
| Engine | | |
| Exhaust | HMF Titan-Quiet with Blackout Finish | $750.95 |
| Fuel Controller | HMF Fuel Optimizer | $289.95 |
| Air Filter | Uni Foam | $30.95 |
| Chassis and Suspension | | |
| Front A-arms | Teixeira Tech WX Series | $845.00 |
| Rear A-arms | Teixeira Tech WX Series | $885.00 |
| Front Shocks | Elka Stage 5 | $1,699.99 |
| Rear Shocks | Elka Stage 5 | $1,699.99 |
| Steering Stem | Teixeira Tech Anti-Vibe +2/+3/4 | $245.00 |
| Handlebar Clamps | Teixeira Tech Adjustable | $105.00 |
| Tires/Wheels | | |
| Fites F/R | Maxxis Bighorn 2.0, 25×8-12 | $See Dealer |
| Wheels F/R | Ieizer, Single Beadlock with Mud Covers | $1852.00, Set of 4 |
| Run Flat System | Tire Blocks | $620 |
| Controls | | |
| Handlebars | Fasst Company Flexx Handlebars, 15 deg, Quad Racer Low | $359.99 |
| Speedometer Relocation Mount | Teixeira Tech | $69.95 |
| Grips | Oury ATV | $20.00 |
| Seat Cover | Mud Motorsports | $199.99 |
| Miscellaneous | | |
| Graphics | Graphic Worx | $239.00 |
| | | |
| Contacts | http://teixeiratech.com/ http://www.hmfracing.com/ http://www.elkasuspension.com/   https://www.facebook.com/Dirtworks-Motorsports-175165593144/ http://fasstco.com/ http://www.unifilter.com/ http://www.maxxis.com/ http://keizerwheels.com/ http://ridetireblocks.com/ http://www.mudmotorsports.com/ http://www.worxindy.com/ http://www.ourygrips.com/ | |