Projects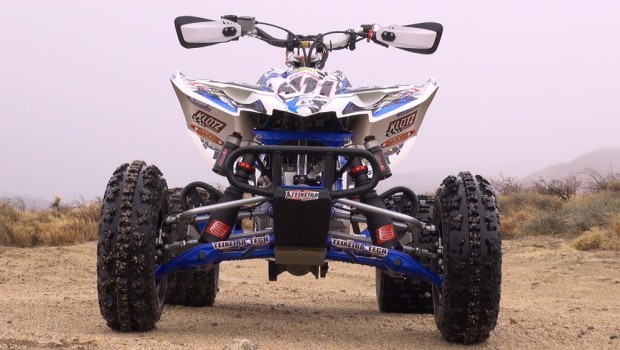 Published on February 17th, 2014 | by Joe
0
Teixeira Tech, Honda 400EX, Cross Country Racer Project Test: with VIDEO
Teixeira Tech's blueprint for building a competitive air-hammer for the woods.
While the Honda 400EX, now 400X, isn't stealing many headlines after 15 years in production, the venerable machine is still deserving of praise and attention. Its dated, slower revving, air-cooled, four-stroke engine keeps it from being considered by many as a serious race machine. While it may not be able to smoke 450s in a drag race, its motor can be pumped up to give the more modern machines a run for their money, while still delivering smoother more controllable power and a higher level of reliability. 400CC class youth racing has created a niche class for the machine and with so many half built Exes sitting in garages across the country, the 400EX is becoming a more and more attractive race platform for the beginning cross country racer on a budget who can benefit from first class handling and a smoother, less maintenance intensive engine.
Recognizing the machine's viability and with a daughter looking for a rideable, good handling machine to contest the SORRA series, Teixeira Tech's Ed Teixeira teamed up with CT Racing to put together a race-ready 400EX capable of winning in the trees.
Who it's for?
Like we said, there are lots of half built 400EX machines out there. If you have one with a built motor or some chassis and suspension work, you could use the products featured on this machine to fill in the blanks to create a well-rounded race machine for the woods. The lower the class, or the tighter the course, the more competitive the EX can be.
Who it's not for?
If you are starting off with a bone stock machine, this build is a little price prohibitive, unless you are building a machine specifically to race a 400cc class. We aren't saying you can't make one competitive for Motocross, but you will reach the competitive limits of the engine sooner on the track than you will in the woods.
The Build
Chassis Upgrades
Teixeira Tech started off with a 2005 400EX, which was promptly torn down to the frame. The paint was stripped; it was inspected for cracks; and one of Teixeira's comprehensive gusset kits was installed. A gusset kit is an important addition to any 400EX frame you plan on racing.
Next, Teixeira installed a set of their long travel, cross-country, a-arms which are +1 7/8 inches wider per side and move the front wheels forward 1 inch. They feature a reverse gull wing design providing maximum ground clearance over the widest possible area. The upper arms feature Teixeira's infallible caster adjustment system, which uses a notched, clamping system. Simply loosen the pinch bolts, set both sides in the same position, and tighten it down. You can make caster adjustments trackside with no need to measure to make sure your caster settings are equal. Camber adjustment is performed by screwing the upper ball joint in or out. Measure it to make sure they are adjusted equally, and forget about it. Once your camber is set correctly you will rarely need to change it, unlike Caster, which you may want to vary from track to track. Other high-end features include sealed, Italian-made Frap ball joints, Uniball lower bearings, and needle bearings in the upper arms.
For the rear of the machine, Teixeira utilized a used 2006 TRX450R swingarm, axle, with a set of stock 400EX wheel hubs. The result is an extra inch of wheelbase and width compared to stock. Use of the TRX450R rear end also allows for the use of Teixeira Tech's rear linkage, which is designed to provide a smoother, less harsh ride.
A used TRX450R upper stem clamp allows for the use of Teixeira's larger diameter TRX450R steering stem. The stem's larger diameter allows it to be both stronger and lighter. Teixeira alters the steering flag, where the inner tie rod ends attach, to reduce bump feedback. Its optional +1inch height opens up the cockpit, and Teixeira's adjustable bar clamp allows you to move the bars 1 inch forward or rearward, in ¼ inch increments–– very trick.
Suspension Changes
The stock 400EX shocks went on eBay and were replaced by Elka's Stage 5 shocks. The top of the line Stage 5s offer high and low speed compression adjustment, along with rebound and ride height adjustment. They come with roost guards to protect the shafts from flying rocks and debris. As a pro level shock, the Stage 5s are also claimed to be the lightest coil-over shocks on the market.
A steering stabilizer acts like suspension, reducing bump feedback to the handlebars. Precision Racing's standard model stabilizer offers performance only eclipsed by their Pro Model stabilizer. The stabilizer offers separate damping adjustment for the center third and outer thirds of the steering. The level of adjustment offered by the Precision stabilizer not only lets you tune out bump feedback, it also lets you make your machine hook up or break loose easier in corners. Their race results speak for themselves.
CT Motor Magic
CT Racing has been building winning engines for Ed Teixeira and countless other racers for decades. Their mid-range motor package includes: a CT Racing Sonic Exhaust system; head porting; five-angle valve job; and Web Cam 450/451 grind; and a new LAPC Piston bumped Compression from 9:1 to 12:1, requiring a race gas/pump gas mix.With a limitless budget, CT will sell you a 39mm FCR carburetor for this kit, or like Ed, you can use the carburetor off a 2004-2005 TRX450R, which provides additional size and horsepower at a fraction of the cost of a new FCR.
As configured, CT's Allen Knowles is claiming horsepower numbers in the mid-40s, which puts it on par with a piped and jetted 2006 TRX450R––impressive for the dated engine. With this comprehensive motor package, CT tells us that you can expect nearly the same results whether your machine's displacement is at 400cc or 440cc.
Pulled head studs are a common problem on pumped-up 400EXes. A common cure is installing a set of GT Thunder heavy duty head studs. The studs require you to drill out and tap your cylinder to accept the larger studs, or you can send your cylinder into GT Thunder and they can perform the mod for you.
The stock air box was mounted up using a Teixeira air box lift kit. The lift kit provides more clearance over the swingarm, and allows for the use of the taller carburetor.
The Brakes
Improving the 400's braking performance was as easy as swapping out the front calipers to a clean used set of YFZ450 front brake calipers. The YFZ's calipers are a dual piston design, offering more power, and are a direct bolt-on to the stock Honda spindles. Out back, Ed used a TRX450R brake caliper and rotor along with the other 450R rear end parts.The smaller rotor adds valuable ground clearance for cross-country racing.
The longer a-arms and swingarm required the use of a set of longer brake lines. Galfer, steel braided brake lines provided the length we needed, and flex less than the stock lines for improved brake power and feel.
Tires and Such
Maxxis Razr tires offer proven, long lasting performance. Their six-ply design makes them puncture resistant, but in a two-hour endurance race you need extra insurance. Tire blocks offer run flat performance. They allow you to run lower tire pressure with less fear of pinching a sidewall, and according to Ed Teixeira, are easier to install than the other popular run flat system on the market.Tire blocks can be used on beadlock or non-beadlock wheels, and our Maxxis tires and tire blocks were installed on a set of DWT wheels.
Controls
ASV F3 unbreakable levers feature adjustable reach, allowing you to put your levers perfectly within reach. Their quick-adjust clutch perch allows you to make clutch adjustments on the fly, literally. Aside from the performance aspects, they give your competition something cool to look at in the pits.
As a desert racer, Ed Teixeira knows the value of having a sticky, long lasting grip. Oury grips provide both.
A Pro Design power shifter is a nice dress-up piece. It also adds a more solid feeling clicking through the gears. They are available in different lengths for riders with shorter or larger feet, or in case you have foot pegs that have been moved back and down one inch, like the Teixeira pegs on this machine.
Battle Hardened
Teixeira Tech has recently come out with a full line of aluminum and stainless steel hard parts for the 400EX. Their trick aluminum bumpers feature a mini skid that ties directly into their full chassis aluminum skid plate, providing seamless undercarriage protection down the length of your frame. Nerf bars and netted heel guards pair beautifully with Teixeira's wide stainless steel foot pegs with kicked up ends. The aluminum components are constructed of 6061-T4 aluminum. Teixeira uses this grade of aluminum due to its willingness to flex without cracking.
For the rear of the machine, Teixeira installed one of their stainless steel swingarm skid plates. Swingarm skid plates are very susceptible to bending, and according to CT Allen Knowles, Teixeira's stainless skid is about the toughest thing you can get.
Body and Cosmetics
Maier Manufacturing's new 400X style plastic is installed on the 400EX with custom mounts fabricated by Teixeira. Along with providing modern styling, the Maier plastic features an OEM quality high-gloss finish. It's available in a variety of colors and is covered by a one-year warranty against breaking.
Chaos MX Graphics created a custom set of graphics for the machine, and all of the powder coating was handled by Way2Go Powder Coating out of Tracy California.
Test Time
On a recent trip to California, we had the chance to put the Teixeira Racing 400EX to the test. Unfortunately, our trip to Mojave for some tree-lined mountain trail riding was snowed out, so we settled for a scenic and fun ride in the less ideal testing setting of Ocotillo Wells.
The super linear power delivery of the CT modified motor allows you to quickly get comfortable with the machine, regardless of your skill level. Ed's daughter, Katie Teixeira, who rode her father's 450R previously, instantly fell in love with the power of the CT Mid-Range motor package and never looked back.
Don't let the engine's lack of intimidating power delivery fool you. Putting out the power of a piped and jetted 450R, there's enough power to compete at the beginner or intermediate level in the woods.The older engine design doesn't rev as quickly as the modern 450s, so it still gives up a little corner to corner in wide open spaces where you drag race through the gearbox. However, in tighter sections, most riders could go just as fast, expending far less energy on this machine.
Power comes on instantly off idle. When you're worn out more than half way through a long race, the CT 400EX motor will lug its way out of corners that 450 pilots will either have to downshift or flame out on. The smoother, more tractable, motor provides an advantage on slippery, muddy creek banks or any time traction is a serious commodity. Through the midrange and into the top end, power just keeps building. It never explodes, rushes, or does anything to surprise you or wear you out. We rarely hit the rev limiter as the engine starts signing off before you're revving the guts out of it. You may pull off a pass in a field late in the race when 450 pilots start making fatigue-related mistakes, but with this ample high-torque engine, you'll be picking your way through the field in the technical stuff.
Machines like this prove that a well set up 400EX can handle as well as any high-performance model available today. The extra width and length provided by the Teixeira a-arms and 2006 TRX450R take-off rear end help keep the machine planted when attacking corners, or flying over choppy bumps at high-speed. This much power on the stock chassis and suspension would have been a little overwhelming; however, the Teixeira setup chassis really lets you make the most of the available power.
Of course, none of the chassis upgrades would have worked correctly with the stock suspension. 115 pound Katie Teixeira floats through the trees and over bumps thanks to the Elka Stage 5 shocks.We managed to stiffen them up enough to hold up to our 190 pound test rider, proving that the shocks have more adjustability than any one rider should need. The Elka shocks lower the ride height of the machine a bit, lowering the machine's center of gravity and reducing body-roll in corners.
The shocks responded well to small and intermediate-sized hits, only finding their limits when an overweight rider started jumping. These shocks were built for cross-country racing; that is the style of riding for which they work best, so Elka nailed it! While both ends performed well, the combination of the Teixeira linkage and Elka Stage 5 rear shock did a superb job of eating up chop under acceleration, keeping the machine tracking straight and the power getting to the ground.
Once you dial it in; the longer you ride, the less you think about the Precision steering stabilizer. The more time you spend without the fear of having the bars ripped from your hands, the more you relax and concentrate on picking fast lines.The Precision stabilizer is one product that seems to do its job flawlessly, no matter which machine you use it on.
Along with the predictable, worry-free steering, having a set of controls that you can totally customize to fit your arm and finger reach lets you settle in and concentrate on doing work. Teixeira's adjustable bar clamp and ASV levers made this possible. The netted Teixeira heel guards never seemed to restrict our heel movement while keeping us protected. With the secure footing provided by the Teixeira pegs, we felt well connected to the machine. Made of stainless steel, they shouldn't need regular sharpening like those old aluminum pegs.
With everything about this machine allowing us to push hard, the upgraded brakes were a welcome asset. You could definitely out-brake a stock 400ex with the combo YFZ and TRX brakes with Galfer lines. They offer tons of stopping power and superb feel.
Conclusion
Having a winning race machine isn't about having the right machine for your favorite Pro racer, it's about having the right machine for you. For 400cc youth riders, or adults looking to gain racing experience in an entry level class and work their way up through the ranks, the 400EX can offer the handling, power, and reliability required to be competitive. Katie has finished inside the top three in the Ladies' Class at each SORRA event she's entered ,and we think Teixeira Tech's 400EX offers a winning blueprint for any EX rider looking to build a way more competitive machine.
| | | |
| --- | --- | --- |
| Machine | 2000 Honda TRX400EX | $600 |
| Chassis | | |
| Frame | Stock 400ex frame stripped, inspected, gussetted, and powder coated by Teixeira Tech | $375 |
| A-Arms | Teixeira Tech, Long Travel, XC A-Arms | Starting at $985.00 |
| Steering Stem | Teixeira Tech | $245.00 |
| Bar Clamp | Teixeira Tech Adjustable | $105.00 |
| Swingarm | Stock 2006 TRX450R | |
| Linkage | Teixeira Trch TRX450R Long Travel | $445.00 |
| Bearing Carrier | Stock 2006 TRX450R | |
| Axle | Stock 2006 TRX450R | |
| Axle Lock Nut | Stock 2006 TRX450R | |
| Wheel Hubs | Stock 400ex | |
| Sprocket Hub | Stock 400ex | |
| Brake Hub | Stock 2006 TRX450R | |
| Suspension | | |
| Front Shocks | Elka Stage 5 | $1,795 |
| Rear Shock | Elka Stage 5 | $1,295.00 |
| Steering Stabilizer | Precision Racing | $485.00 |
| Engine | | |
| Engine | CT Racing Mid-Range Motor Package | $1 |
| Head Studs | GT Thunder Heavy Dury Head Studs | $59.95 |
| Carburetor | Stock 2005 TRX450R Carburetor | |
| Air Box | Stock with Teixeira Tech Lift Kit | $25.00 |
| Air Filter | Uni Foam Filter | $25.00 |
| Drive | | |
| Front Sprocket | Dirt Tricks Ironman 15 Tooth Hardened Alloy | $37.00 |
| Rear Sprocket | Dirt Tricks Ironman38 Tooth Hardened Alloy | $109.00 |
| Chain | Regina 520 O-Ring | See Dealer |
| Brakes | | |
| Front Calipers | Stock YFZ450R | |
| Rear Caliper | Stock 2006 TRX450R | |
| Controls | | |
| Brake Lever | ASV F3 | $75.00 |
| Clutch Lever | ASV F3 Pro Perch Assenbly | $115 |
| Grips | Oury ATV Grips | $20.00 |
| Wheels/Tires | | |
| Front Tires | Maxxis Razr 21.5×6-10 | See Dealer |
| Rear Tires | Maxxis Razr 20×11.1-9 | See Dealer |
| Run Flat System | Tire Blocks | $480.00 Full Set |
| Protection | | |
| Front Bumper | Teixeira Tech XC | $120.00 |
| Frame Skid Plate | Teixeira Tech | $120.00 |
| Swing Arm Skid | Teixeira Tech | $130.00 |
| Heel Gurad/Foot Peg Combo | Teixeira Tech | $295.00 |
| Body | | |
| Plastic | Maier TRX400X Style | $943.35 |
| Graphics | Chaos MX Custom Graphics | $225.00 |
| Contacts | | |
| Teixeira Tech | http://teixeiratech.com/ | |
| CT Racing | http://ctracing.com/ | |
| ASV | http://asvinventions.com/ | |
| Oury | http://www.ourygrips.com/ | |
| Elka Suspension | http://www.elkasuspension.com/ | |
| Precision Racing | http://precision-rp.com/ | |
| GT Thunder | http://gtthunder.com/ | |
| Dirt Tricks | http://dirttricks.com/ | |
| Tire Blocks | http://ridetireblocks.com/ | |
| Maier MFG | https://www.maier-mfg.com/ | |
| Way 2 Go Powder Coating | https://www.facebook.com/pages/Way-2-Go-Powder-Coating/302036443225879 | |
| Chaos MX Graphics | http://www.chaosmxgraphics.com/ | |